Hilary Duff weight loss as sexy pilgrim wows as Jason Walsh Halloween costume fails
Jason Walsh 'sorry' for ironic Indian Halloween costume as Native Americans abused in North Dakota Pipeline protest: Duff's tacky getup revealed too.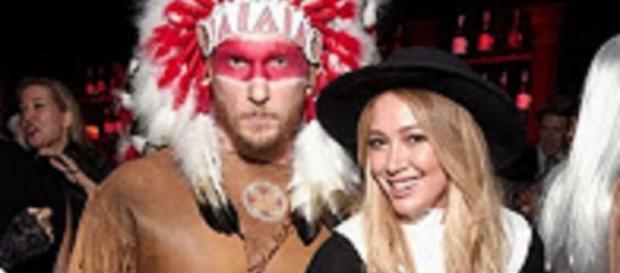 Hilary Duff and boyfriend Jason Walsh couldn't be more ironic if they tried. As Native Americans are abused in the North Dakota pipeline protest, Walsh dressed like a North Dakota Indian for #Halloween. Duff's sexy pilgrim Halloween costume failed too, but less so, and for different reasons. Hilary also oddly wowed, showing off weight loss in her itty-bitty Puritan getup. 
Jason Walsh, Hilary Duff racist?
So the dynamic duo is sorry now, but you have to wonder what they were thinking getting up like that. The chief headdress, leggings, and warpaint aren't just cultural property, they're sacred. As with the tattooed Polynesian Maori Halloween costume that caused so much drama a few months ago, folks reminded: Indian (native, indigenous) is not a costume.
So big deal, you're thinking, someone always gets offended by something. But what happens when it's something that offends you? What about #BlackLivesMatter --white folks get so sensitive and start to feel threatened. Now who's offended? Mockery, bullying, racism are fine until you're on the receiving end.  
Hilary Duff, Jason Walsh poor timing in NoDAPL
Native American Indians are protesting a North Dakota pipeline and are reporting some cruel and unusual punishment. The United Nations is investigating excessive force used by police, on pipeline protesters, unlawful arrests, and mistreatment and harm in jail. Some activists are being held in cages, it's said. This just exemplifies the bizarre treatment experienced over the centuries, say activists. It highlights why they're protesting in the first place.
Oddly enough, Walsh chose a North Dakota plains Indian Halloween costume. Other people think the pipeline protest is a mockable Halloween moment too. 
Hilary Duff surprises with weight loss, insensitivity
What the heck does weight loss have to do with anything? Not much, unless you consider the costume in which she flaunted it. To accompany her honey's native American ensemble she went as a sexy Puritan. Oh, the levels of irony there. Puritans shunned all ornamentation, so a clingy thigh-high dress would be the ultimate coup de grace. Some objected that she poked fun at "white" Americans, American traditions like Thanksgiving, pilgrims, etc. But that's the shoe-on-the-other-foot issue discussed earlier. A tribal costume might not offend if one is not Native American, while things that mock something one identifies with would.  #NoDAPL #HilaryDuff