"General Hospital" spoilers from Soap Opera Digest reveal that Sonny Corinthos plans to take his life the same day that he lays his youngest son to rest and Carly Corinthos intentionally ignores the warning signs because she blames him for the death of Morgan Corinthos.
Sonny makes plans for his death
Sonny told Diane Miller to get his financial affairs in order and he just set up a foundation to benefit young people with mental health issues like Morgan.
Sonny went to tell Carly what he had done, perhaps hoping for a lifeline from his wife, but she shut him down.
Carly told Sonny it was a nice gesture but it wouldn't bring her son back. When Carly showed Jason Morgan the foundation documents, he noticed immediately that the funding was excessive compared to Sonny's net worth. Jason saw this is a warning sign but Carly dismissed it.
Father Griffin breaks his vows
Griffin Munro already broke his vows once when he bedded Claudette Beaulieu but upcoming "General Hospital" spoilers predict he will break them again, even though he's no longer officially a priest.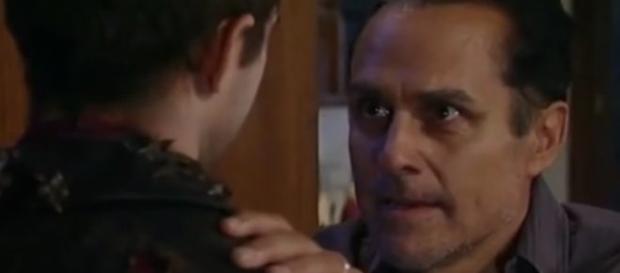 Sonny insists that Griffin hear his final confession before he takes his life.
Sonny wrote a suicide note and left it for Carly but as a Catholic, even one struggling with his faith, he knows he needs to get right with God before he dies. Sonny will confess to Griffin all his sins one last time. Then Griffin breaks more priestly rules.
Carly can't make herself care
Wednesday, November 9, sees Griffin decide he can't keep quiet about the confession and warns Carly.
Griffin tells Carly Sonny is going to kill himself but she doesn't want to hear it. 
Carly's mind is on Morgan's funeral on Friday, November 11. Carly consults Andre Maddox on his final therapy sessions. Carly willfully ignores the red flags about Sonny's plan to take his life.
Will Sonny go through with the suicide?
There's no way "GH" is going to kill off major character Sonny but "GH" watchers will still be stressed by this story before it is all over.
There are lots of "GH" spoilers coming out about the funeral including an unwelcome guest at the event.
Jason Morgan and Sam Morgan desperately chase leads to clear Sonny in the bombing case. It's a race to save Sonny's life because he thinks he needs to die in penance for Morgan's death.
How close will it be to Sonny's suicide attempt before someone stops him? "General Hospital" spoilers don't yet reveal the answer.
"General Hospital" airs weekdays on ABC.
Click to read more
and watch the video