Fox News host accuses black 'Hamilton' actor of reverse racism, says go back to 'hip hop'
After the cast of "Hamilton" addressed Vice President-elect Mike Pence Friday night, some at Fox News were not too happy about it.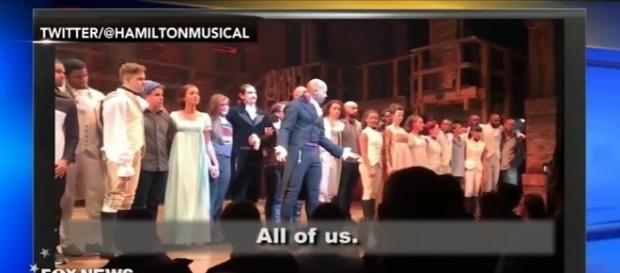 As the weekend comes to a close, one of the biggest stories that has dominated both entertainment and political news was the altercation between Vice President-elect Mike Pence and the cast of the musical "Hamilton." In the 48 hours since the incident, it appears almost everyone has an opinion about what went down.
Fox News on Hamilton
In an attempt to take a breather and step back from the duties of running the Donald Trump transition team, Mike Pence made his way to see "Hamilton" on Friday night, but was booed by the audience as he made his way to his seat.
At the play's conclusion, the cast addressed the audience during the usual closing curtain call, but actor Brandon Victor Dixon gave a special message to Pence who was seated just a few rows deep. Dixon expressed the concerns of the cast about the future administration's agenda, but made sure to offer his respects to Pence in the process. Backlash quickly followed, most notably from Trump, who lashed out against the actors on Twitter. As reported by Mediaite on November 20, one Fox News host wasn't too happy either.
Addressing the controversy was Fox News host Jeanine Pirro, who expressed her anger during the weekend broadcast. Pirro made sure to direct much of her criticism at Dixon, an openly gay African-American man who is also HIV-positive. "What happened in that theater one block from this studio was out-and-out reverse racism and teed-up hate!," Pirro shouted. "Last night violates everything that you say that you stand for," Pirro continued. "Why not hip hop about the electoral college or is that the part of the Constitution that you just want to ignore?," Pirro rhetorically asked.
Pence not offended by comments to him at 'Hamilton' show https://t.co/k2TmyQCHia pic.twitter.com/jTl4dTyAsJ

— Reuters Top News (@Reuters) November 20, 2016
Not stopping there, Pirro continued her attack, stating that the cast "took the fun, the enjoyment and the memory of that play," while praising the trending hashtag "#BoycottHamilton" on Twitter. While Trump and many in the right-wing media were outraged, Pence addressed the incident during a Sunday morning interview and said he "wasn't offended" about what happened, and complimented the performance of the musical.
Moving forward
With the "Hamilton" drama behind them, Trump and Pence have made their way back to the transition team as they finalize the remaining positions available in the cabinet and administration. Both men have just over 60 days to do so, as they will be sworn into office on Inauguration Day, which is scheduled for January 20.
Click to read more
You will watch a video to read the news
or