'Dragon Ball Super': episode 69 synopsis. Arale vs. Goku and Vegeta
Here's the summary of the episode 69 according to the Japanese magazine Shonen Jump.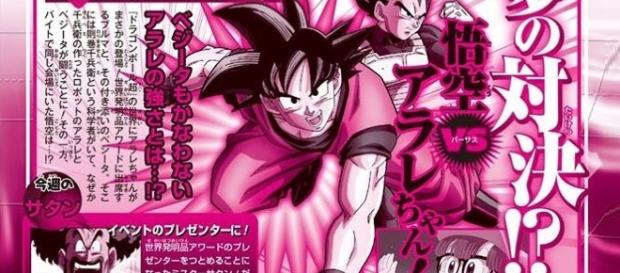 Finally, the synopsis of the episode 69 has appeared in the magazine Shonen Jump (which is the official magazine of the franchise) shedding some more light on what we can expect from the next episode of "Dragon Ball Super." Let's take a look.
Arale's strength
What's going on with Arale's strength, which even Vegeta is not a match for? Arale has a surprise cameo in the world of "Dragon Ball Super." Vegeta attends with Bulma an event called "World Inventors Award." The scientist Senbei Norimaki is in that place as well. For some reason, Vegeta ends up fighting with Arale, who is the robot that was made by Senbei. Meanwhile, Goku is also at the event working as a security guard.
Mister Satan
Mister Satan this week is the host of the awards ceremony, but things get out of control when Arale and co. start destroying everything around the assembly hall.
Arale and the Saiyans
As we can see, the next episode looks very promising, especially for the old-school fans of "Dragon Ball" and Akira Toriyama. Arale and Goku will meet again. Bulma will participate in the "World Inventors Award," as the best scientists from all over the world will be there, and Vegeta will go to the event with his wife. Goku will be there as well, but working part-time as a security guard. Both Saiyans will have a not-so-friendly encounter with Arale, who apparently causes a lot of trouble at the event along with its creator. The Saiyans will fight against the robot girl, but according to the synopsis, they won't have much success. Why is it so hard for Vegeta? Especially since he defeated a Metalman like Magetta in the tournament between Universe 6 and 7?
The next saga
These are the following episodes before the next saga starts, where Champa will organize a baseball tournament, but we don't know if it will be a full arc, since it was announced that the next big arc will start in mid-December, so we have to wait to know if there will be something new or if it will start with Champa's baseball tournament and Hit's return.
Click to read more
and watch the video
or