'Dragon Ball Super': Episode 69 official synopsis. Goku vs. Arale
We exclusively show you the official Toei Animation's summary of chapter 69.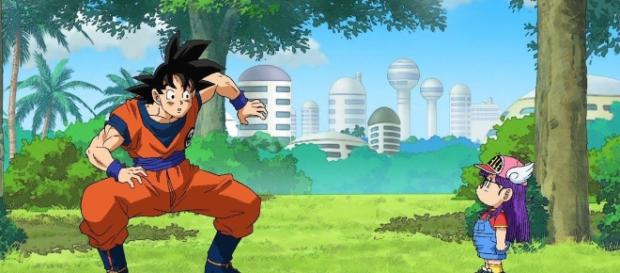 The official site of the series showed us a few hours ago an official synopsis of the next chapter 69, which will be broadcasted a week from the debut of chapter 68. Let's remember that the episode 68 will be characterized by counting with the presence of Shen Long, after a long time. Also Goku's friends will argue around the dragon god's wishes. Talking about Master Roshi and Android 18 we know that both of them want to make a wish. Roshi will surely ask for some kind of "special" magazine, while Android 18 might be asking for money (actually we can see something about that in the preview).
On the side of Gohan, he surely will ask for the cure of Pan, who seems to have fever. Meanwhile, Goku -- who gathered the dragon balls -- wants to revive Kaiosama, because it's something he always forgets but has in mind. Next, we are going to show you the episode 69 official synopsis:
Title: Goku vs. Arale! The end of the world by a mad battle?
Synopsis: There will be a new event called "World Inventors Award" and it will be a tribute to the best inventors in the world. The most renowned scientists, including the father of Bulma, are going to be in the feast.
Goku is working as a security guard at this event and Mr. Satan will be responsible for the award ceremony. We can suppose that the prize is won by Norimaki from Penguin Village. When the inventor presents his invention Doctor Mashirito attacks him. He feels frustrated for not being invited to the ceremony, so he bursts into the room with Arale and Gatchan.
We guess that because of that, Arale and Goku are going to fight. The first battle was a meeting at Dr. Slumps where Goku lost, converted in Ozaru.
Who will win this time after so many years? For the most clues, fans will recall that Arale is an original character of Akira Toriyama, specifically created for the manga called "Dr. Slump."
In fact Dr. Slump was the first great work of Toriyama, mixing humor with science fiction and another way of seeing robots. Arale has a great power, but could not be compared with the current power of Goku, who surely is thinking that he is fighting against a child, and will surely not put forth his best effort.