'Dragon Ball Super' Chapter 68: Goku vs. Arale?
We tell you the next events of the 68th chapter of the 'Dragon Ball Super' series.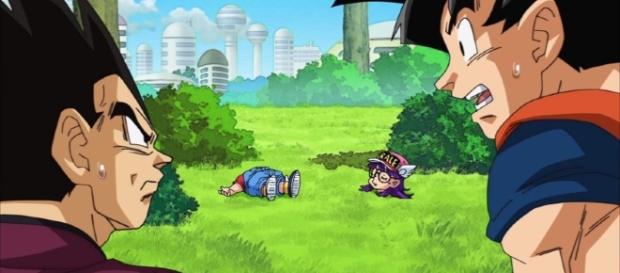 After Pan was healed by Shenlong and Bulma failed in the attempt to make a time machine again, as she was surprised by Bills. When Goku went to look for the strange material to complete the experiment, the god of destruction decides to destroy a good time machine.
But in this note we will talk about the events of the next chapter of this exciting series.
The next chapter of "Dragon Ball Super" is titled: "Goku vs Arale! The earth comes to an end because of their battle?"
The synopsis is as follows:
"The event called the" World Invention Award, "which honors the best innovations in the world, gathers the greatest scientists, including Bulma for the ceremony.
Goku is working part-time as a security guard in the event, and Hercule is presenting the award. The award goes to Senbei Norimaki of Penguin Town. The Norimaki is presenting his invention, Dr. Mashirito attacks. Frustrated that he was not invited to the ceremony, he interrupts the proceedings, and for some reason Arale and Gatchan are at his side."
In the advance we can observe Goku in the Super Saiyajin Blue God phase, which is very strange since the power of Goku is very superior to the power of the small Arale.
On the other hand, we will also see the participation of the god of the destruction, but apparently, he will only attend this event to eat and not participate in any actual battles.
In this episode we will also see Vegeta give a strong blow to the android Arale
Remember that these chapters are stuffed and should not be taken seriously overall, because the beginning of the new saga of "Dragon Ball Super" will be in Chapter number 71, with the appearance of the mysterious subject who tried to assassinate Goku.
Although, for now, we will have some filler to get through before the new saga ultimately begins, so fans will have some time to further speculate between now and then.
To conclude this note, we will leave you with the video of the advance for this chapter, in which we will see the battle of the android Arale against the saiyajin Goku.
Click to read more
You will watch a video to read the news
or