'DBS': finally Son Goku destroys Zamasu's wall of light. Confirmed
The heroic scene of Son Goku has been a concern for several fans of the series.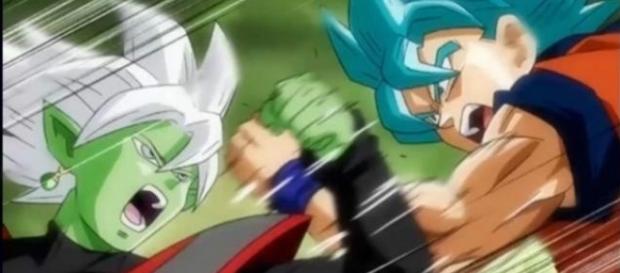 Another episode of "Dragon Ball Super" is only a few days away. According to the official synopsis of this episode, this merged villain has exceeded the limits of what exists and has an aura in its carapace that cannot be touched. For individual who touch could run the risk of dying. Just a few hours ago, a Japanese source in connection with V-Jump revealed new information about the upcoming chapter of the series, in which it says that Zamasu loses his mighty wall of light, when facing one unexpected Saiyan warrior. Next, we will bring you the news.
Who will break Zamasu's wall of light?
As we have seen, actually, no  warrior could be able to deal with this formidable villain. The transformation of Super Saiyan Blue God, is totally ineffective when compared to the supreme power of the merged God. However, it seems that someone is ultimately successful in breaking that barrier -- a character in the animated series will have enough guts to destroy the powerful white aura of the current enemy, and according to the Japanese source that revealed this new information, this warrior is Son Goku, yes, for sure it will surprise you as it will surprise all "Dragon Ball Super" fans. 
Will Son Goku destroy merged Zamasu?
Son Goku, the Super Saiyan who belongs to the universe seven, risks his life to try to stop the hegemony of Zamasu.
According to this source, the warrior accomplishes in an instant to destroy the powerful wall of light that this villain has on his back. However, the Saiyan will not get out unscathed from this battle, but fortunately, he will give a new chance to the Z warriors, to continue fighting against the antagonist, who now has no barrier preventing attacks.
Additional information
The Japanese source also said that merged Zamasu will suffer a terrible change, lacking the ability to absorb or deflect any oncoming attacks.
Will it be a change for the better? Next, we will show you the progress of chapter 65, with some leaked information about this saga. Enjoy it, and stay tuned.