Blac Chyna treads on shaky ground taunting Rob Kardashian about weight?
It wasn't all that long ago that Rob Kardashian became very depressed over his weight in the headlines, so Blac Chyna should go easy on him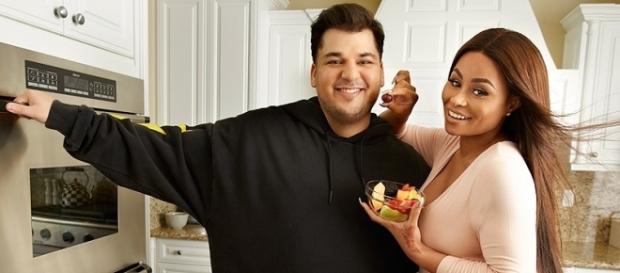 Blac Chyna is taunting Rob Kardashian about his weight since she's made such great progress by dropping 23-pounds of her own. She is constantly flaunting the fact that she's lost this weight since giving birth to their baby girl, Dream, in hopes it will motivate Rob into following suit.
Blac Chyna's success
She's taken to social media to share her progress with video clips that show her exercise routine. She's also posted photos of her now flat tummy that has "snapped back" into place after giving birth to her daughter. While losing weight seems to come easy to this mom of two, the same can't be said for Rob, reports the Inquisitr.
Rob's weight
It is no secret that Rob has struggled with weight for years and he's even isolated himself from the public for long periods of time to avoid having a picture taken of his overweight body by the paparazzi. That wasn't an easy feat as photographers constantly follow all the Kardashian family members around.
Depression
When that rare picture was snapped and posted, it seemed to zero in on the amount of weight the brother of the famous Kardashian sisters had gained. This didn't help with Rob's self-esteem putting him in a dark mood and causing him to isolate himself from the outside world.
#blacchyna first time stepping out since having her baby! pic.twitter.com/4nJYGijTXW

— RealityTV👊🏾🖕🏽 (@realityshowtea) November 19, 2016
Rob has suffered from depression, agoraphobia and anxiety, along with Type 2 diabetes, so losing weight would be extremely beneficial to his health. Blac Chyna's goal was set at dropping a total of 62-pounds when she weighed 192-pounds at the end of her pregnancy. With 23 of those pounds already gone, she's made good process in her journey to her desired weight of 130-pounds.
#PressPlay: #BlacChyna 's snapback game is strong after giving birth last week 💪🏾 pic.twitter.com/hAAelvVq4l

— TheShadeRoom (@TheShadeRoom) November 20, 2016
Baby Dream and mommy😴🍼Sweet Dreams! 📸: @blacchyna pic.twitter.com/Qx5wWkzQSD

— E! Entertainment (@e_entertainment) November 23, 2016
Natural at weight loss?
Blac Chyna finds losing weight easy with just a little motivation on her part. She is doing exercise and along with breastfeeding, the weight is just dropping off. Rob finds weight loss a grueling task and the only way he is able to be successful is by doing vigorous exercise and strict dieting.
Taunting could backfire
While Blac Chyna is said to be taunting Rob because she wants him to lose weight for his health, too much taunting can backfire for the only male in the Kardashian clan. It wasn't that long ago when his famous mom and sisters were concerned about his mental health as he became somewhat of a recluse. He didn't attend many of the Kardashian family functions and was reportedly a very sad individual.
Since meeting Blac Chyna he appears to have come out of that shell and there are frequent smiles on his face.
The last thing Rob needs is to fall into that depression again because of his weight. Hopefully for Rob's sake Blac Chyna doesn't make his weight too much of an issue and maybe try some heart-felt conversation rather than taunting and teasing.
Click to read more
and watch the video
or