Barron Trump comic book-like image goes viral in Japan - manga icon has 'annoying' dad
It looks like Barron Trump is a hit in Japan with a future as a manga icon. His tear-soaked face in a comic book-style image is a much tweeted pic.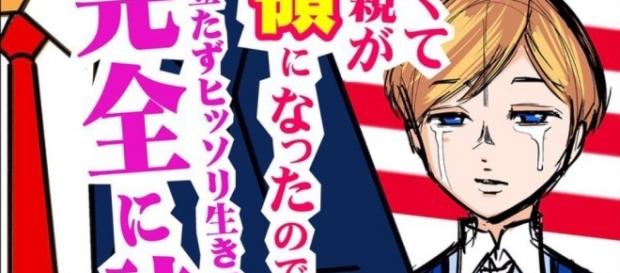 Barron Trump has become a hit sensation in Japan on Twitter and the image of the "apple-cheeked prince" is now gracing the pages of Japanese Twitter like a manga icon. The cartoon-like character is created in Barron's image and if he does become a comic book it will fall under the genre of "beautiful boy," translated from the Japanese sub-genre of "Bishonen"
Barron the break-out star of First Family
The manga is the Japanese version of a comic book and because Barron's image has been created in a manga style drawing, people are waiting for the literary version to hit the racks.
While there's no word that this will happen, someone is bound to jump on the bandwagon of this viral image and create a version of Barron in a magna!
American prince
Some are confused at the youngster's relationship with the 70-year-old president-elect with one Twitter user asking if he is Trump's son or grandson. Things are bound to get lost in translation and Donald Trump is 60 years older than his youngest son.
According to the A.V. Club, Barron is thought to be somewhat of a prince by the Japanese people and he is described as a "poor, sweet, sleepy boy." The pictures seen of this child in the gilded Trump Towers with his huge stuffed animals and oversized toys have caught the interest of the Japanese people.
Barron is rarely seen in public, but during his father's presidential campaign he made appearances at the RNC and then again on election night. Both times he was kept up late at night and struggled on camera to stay awake.
His 'loud and annoying father'
The well-know Japanese artist Yuusuke Hori has created Barron's image as if he is the star of his own manga. The caption of the image says it all and could be why someone will make him a super hero in a comic book-like style. The caption says, "My loud annoying dad is president, so the quiet unassuming life I wanted is completely over." The comic book-like image is seen below in a tweet.
November 9, 2016
Barron thought to be Trump's grandson?
One Japanese Twitter user commented that they weren't too sure if Barron was "Trump's son or grandson," but they heard he was adorable and their concern was that he will start looking like Trump as he grows older! The people on Twitter in Japan reported having "fun" while watching the sleepy kid who stood next to Trump on TV.
Will Barron get his own manga?
According to the A.V. Club, the fans that Barron has accumulated in Japan already are looking forward to reading more about him as they hope for a comic book, or manga.
They are especially interested in the kid getting to have some type of outdoor adventure!
Not all Trump siblings get rave reviews for looks!
Young Trump is adorable, but someone on Twitter has deemed Eric Trump, the 32-year-old middle son of Donald Trump, as having vampire-like looks. His slick backed hair might have something to do with that image. Although, unlike his younger brother, he's not up for a comic book in any country!
Click to read more
You will watch a video to read the news
or