'The Walking Dead' – Season 8 confirmed for late 2017
As fans of "The Walking Dead" wait impatiently for season 7 and the result of last season's brutal cliffhanger, 16 new episodes have been confirmed.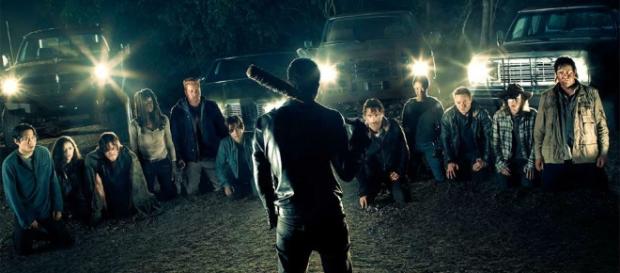 As "The Walking Dead" returns this Sunday, we will finally get to know who Negan's victim was in the cliffhanger ending of season 6. However, for any fans who have shown concern about whether the show will continue after the upcoming season, the good news is that AMC has announced that season 8 has officially been confirmed and will air towards the end of 2017.
More "The Walking Dead" coming in late 2017.
According to The Hollywood Reporter, there was a two-hour "TWD" retrospective on Sunday that announced the new season 8 with its 16 brand new episodes.
Reportedly each of the new episodes will be followed by the "Talking Dead" after show. When making the statement and referring to Negan's words at the end of season 6, AMC president Charlie Collier said those terrifying words, "Eeny, meeny, miny…" but added to the good news with the word "more."
Collier went on to say that it was a joy to partner with Robert Kirkman and Scott Gimple to bring the popular zombie apocalypse show to its fans. He then thanked those fans for their support in keeping the popular show going.
The news of a upcoming season 8 of TWD comes after AMC reported that "The Walking Dead" spinoff show, "Fear the Walking Dead" has been renewed for a third season in 2017.
6 days, y'all. I think Aaron's face here says it all... pic.twitter.com/oJSLJsU2BD

— The Walking Dead (@TheWalkingDead) October 18, 2016
Robert Kirkman speaks about "The Walking Dead" annoying cliffhanger to season six.
The Rolling Stone says the show's creator, Robert Kirkman, spoke to them about the harrowing cliffhanger, saying they knew fans might be upset.
But he ended by saying that everyone enjoys a good cliffhanger. He also said there is a culture of instant gratification these days on social media and Netflix, with everything available on demand all the time and nothing held back. Kirkman said you can't do 52 episodes of a show each year, but you can do something to get fans talking about the show between seasons, discussing the possibilities. He ended by saying that if fans have enjoyed the show so far, season 7 of the "The Walking Dead" is going to be "pretty great."
#TWD Season 7 premieres in ONE week. Are you ready?! pic.twitter.com/srP26RjhuU

— The Walking Dead AMC (@WalkingDead_AMC) October 17, 2016