'The Voice' contestants deemed risk-takers showcasing their talent under Team Miley?
Will this season's contestants on 'The Voice' find it's risky business signing up for Team Miley because they need votes and she's so disliked?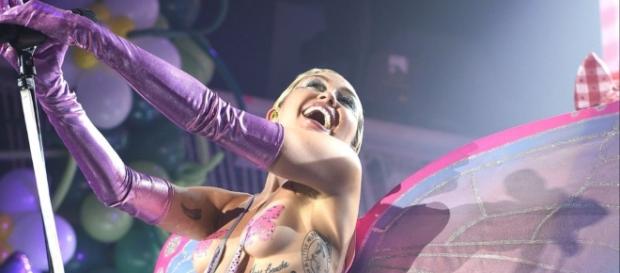 "The Voice" contestants who opted to join the team headed by Miley Cyrus might have taken a bit of a risk by doing so. Not too many will debate the girl has talent, but many do find Miley well...obnoxious. 
Votes for talent or against Miley's team winning?                                                                                                                                   
While the viewers should be voting for the contestants with the most talent, will those who find Miley Cyrus objectionable use their vote to make sure Miley doesn't become the winning team coach? The Inquistr suggests with the talent on her team she has a good chance at bringing it home for a win, only if people will vote for Miley. 
When searching the names of the other three "The Voice" coaches on Google you are going to find some disparaging comments about each and every one of them somewhere online.
But the quantity of harsh comments about Adam Levine, Blake Shelton and Alicia Keys are nothing like what you will find tagged to Miley. In fact it is almost impossible to find a disparaging word about two of the coaches, with Blake having a few residual negative quips regarding his divorce from Miranda Lambert.
Nasty comments easy to find 
Without a doubt it is much easier to find negative comments about Miley Cyrus than the rest of "The Voice" judges online. In a recent article about Miley not being invited to the wedding of Blake Shelton and Gwen Stefani,  comments indicate that regular folks out there wouldn't want Miley at their wedding either.
Miley's obnoxious behavior outshines talent?
There's no denying Miley's got talent, just listen to her voice when she recorded "Wrecking Ball." She not only offers up some good lyrics, but she sings such a haunting rendition because of her own feelings she has laced through the chords and words of the tune. Miley's name appears on most of the lists online that note "most disliked celebrities" in Hollywood today. Her name appears on lists trotted out by many of the big name websites, including CBS and The Top Tens. 
There is a wide variety of reasons offered for Miley showing up on these lists.
Some of the examples noted are Miley being a bad role model for kids and that disturbing thing she does with her tongue, hanging it out any chance she gets. Her performance at the 2013 VMAs is also offered as a reason folks dislike Miley so much. This is when "she embarrassed herself twerking, according to The Top Tens website.
How will viewers vote?
So will the distaste for Miley Cyrus drive the bus on the votes this season on "The Voice"? This wouldn't be fair to the contestants, but there are some adamant dislikes floating around online about Miley Cyrus today.
A vote for one of the contestants she is coaching is a vote for the team she is leading. When it boils down to it, people may see this as a vote for Miley!
Click to read more
You will watch a video to read the news
or