'Teen Mom': Farrah Abraham refusing to film after weekend drama with her co-stars?
Farrah Abraham and her reality TV co-stars are at each other's throats yet again.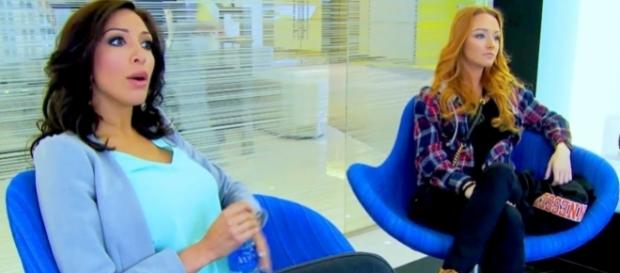 "Teen Mom OG" star Farrah Abraham reportedly didn't show up to film the "Ask The Moms" special after some serious weekend drama with her co-stars, Maci Bookout, Amber Portwood, and Catelynn Lowell. According to a report from Real Mr. Housewife, Farrah didn't show up to filming after her co-stars turned against her during the filming of the reunion special. Does the drama ever end with these girls?
Farrah didn't show up to filming
It all started when the girls gathered to film the "Teen Mom OG" reunion special.
Drama seemed to be in the air as Maci Bookout, Catelynn Lowell, and Amber Portwood reportedly walked off the stage together in protest of Farrah Abraham's lateness and behavior over the weekend. Maci called out Farrah's behavior as unfair to the other three stars of the show. The three women then thanked fans and left the stage together. Fans reportedly gave the Reality TV moms a standing ovation for their mini protest. 
Huge drama for the 'TMOG' stars
Meanwhile, while Farrah Abraham was filming her portion of the reunion with boyfriend Simon Saran, things really hit the fan.
Farrah and Simon were discussing Simon's comments about Amber Portwood's boyfriend Matt Baier. When Abraham said that she believed Matt looked like a pedophile that's when things got crazy. Amber rushed the stage and got into a physical fight with Farrah as Matt and Farrah's father, Michael Abraham got involved in an altercation as well. In addition, Maci was allegedly going around set saying she wanted to "kill" Farrah, which left the "Teen Mom OG" star reportedly afraid for her safety. This is why she didn't show up to film the "Ask The Moms" special. 
Will fans get to see the drama unfold on TV?
It looks like the "Teen Mom OG" stars have more bad blood between them than ever before, and it should be interesting to see how it plays out during the upcoming season of the MTV reality series.
Meanwhile, fans are dying to know if the fight and all the other behind the scenes drama will be shown when the reunion special airs in a few weeks. 
Click to read more
You will watch a video to read the news
or