Kim Kardashian comes out of hiding and her shocking get-up detonates the Internet
After dubious Paris robbery, Kim Kardashian-West makes first public appearance sporting an outfit that was daring even for her!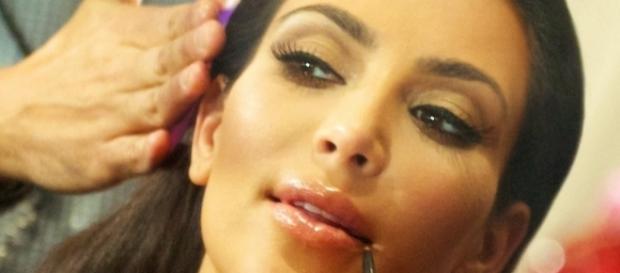 Kim Kardashian-West came out of hiding for the first time since her dubious Paris robbery and the fashion icon's shocking get-up detonated the Internet. Her outfit of choice for her first pubic appearance since the bondage holdup was daring even for Kim. Where she went and what Kardashian wore reveals a lot about the Reality TV star.
Spurious Paris Fashion Week robbery
So a few weeks ago, Kim Kardashian was ostensibly bound and gagged and then robbed in her Parisian apartment. But a lot of investigative experts question a lot of details in Kardashian's story.
The prevailing theory is that Kim' hard-up to bankruptcy husband Kanye West staged the burglary for the insurance money. Kim was relieved of $10 million in jewelry but that was nothing like what she had with her in valuables. This isn't the first time Kanye has directed his wife in amateur theatricals, notably those cirque du striptease fashion shows of his.
The accused ate ice cream
There's been some feeling that the "Keeping up with the Kardashians" star has been holed up in fear of reprisal from police rather than from her attackers.
 Poor Kim--all this quarantining must be playing havoc with her attention addiction. She must be going into withdrawals being off social media so long. So finally, she busted out and went for ice cream with buddy Jonathon Cheban. It must have been an emergency comfort food run judging by Kardashian-West's outfit. She wore a white hoodie with apparently nothing underneath, and pool shoes. Most telling of all (are you sitting down?) was the fashion diva's almost complete lack of makeup. 
The damsel in distress
So the tabloids are making a big deal over how Kim K. went out without makeup.
That's because she's never not camera-aware. The selfie queen shares countless images of herself daily. So she's not totally unmade up, but her face is a lot more subdued than usual. Is that supposed to prove how upset she is? Ever notice how celebrities claim to eschew attention and desire privacy but still pose for the camera? Kim isn't looking at the photographer but you can tell she knows he's there. Kim's got her lip gloss at the ready and her duck lips artfully arranged. Even after all she's claimed to have gone through, she just can't stop the trout-pout for the camera.