Jeremy Vuolo to ask Jinger Duggar to marry him: 'Counting On' Duggar girls plan wedding
'19 Kids and Counting' Michelle Duggar, Jessa Seewald head to NYC with Jinger, Jeremy: Vuolo puts ring on it, pops question after quick courtship.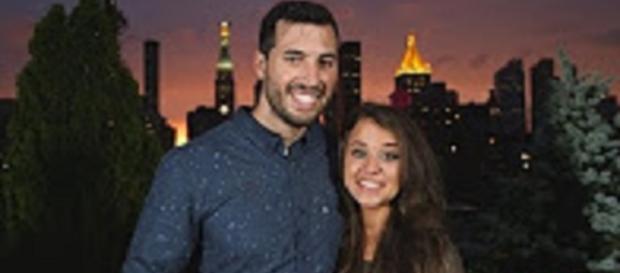 Its been official for a few months: #Jinger Duggar and Jeremy Vuolo are engaged. But the next episode of TLC's "Counting On" hints that Vuolo will make it official and ask Jinger to marry him. He's been seen ring shopping and mom Michelle Duggar and sister Jessa Duggar Seewald went with the soon-to-be bride to New York City. Jinger also went on a wedding planning trip recently though Jessa said the proposal surprised Jinger. Rumors suggest it will be a destination wedding which doesn't really fit with the Duggar family's ultra-strict courtship and church wedding protocol. In fact a few things about the Jinger-Jeremy relationship don't fit the family plan. 
Courtship, engagement, proposal, in which order?
Its been a little unclear on "Counting On" where this courtship left off and engagement began.
During courtship, the couple is dating, sort of. They go on chaperoned outings with other family members and parents very present and accounted for. The point is for the couple to test-drive each other before buying. But this whirlwind courtship moved pretty fast to engaged. Vuolo had only just "inquired within" and been granted permission from dad Jim Bob Duggar to get to know Jinger late in December, 2015, and now marriage?
Still doing courtship their way?
Vuolo, a former soccer player from Laredo, Texas, didn't start courting Jinger, 22, till June. Jeremy had put an engagement ring on it by late July. Now the 28-year-old pastor is planning to propose marriage in mid October and Jinger and her wedding planner sisters are shopping. Wouldn't he have proposed when he gave her the engagement ring? Keeping in mind that the shows air after events, it's still rushed by Duggar standards.
The sequence of events is confusing too. But that could be down to Jinger's comment that they have their own rules for courtship. The couple has clearly flouted the no-touch policy. They sit cuddled together and openly hug. They're clearly in love! 
Now about that guest list...
So the Duggar sisters went on a wedding planning trip which seems odd if they were having the ceremony in Arkansas. They could be traveling to Laredo but that doesn't seem likely given the size of the Duggar family. Is it a destination wedding? That used to be the fancy way of saying they're eloping but could just mean that the marriage ceremony will be held somewhere else. The burning question is who's on the guest list? Will oldest brother #Josh Duggar (child molester, porn addict, adulterer, cybercheater and recovering sex addict) be there? At least his wife Anna Duggar and four children will likely be invited, but how about the man himself, given the very public nature of this wedding? #CountingOn