'American Idol': Laine Hardy breaks social media silence with an Instagram story
Don't miss our Facebook page!
Like Blasting News page on Facebook: we will keep you updated with all the latest news.
The Indian TV show "Ishqbaaz" should be more aptly named as "MysteryBaaz" as new suspense is getting stringed in the story every day and now it's the appearance of a new man in Tia's life.
Tuesday's episode was a sensational suspense-filled drama with a sugary dose of 'Shivika' romance. The episode started with Rudra waiting for moonrise. As he was feeling extremely hungry, but feared eating anything, he calls love angel but gets shocked to discover that love angel is no one but Soumaya herself.
Rudra confronts Soumya for hiding things from him and tells her that their friendship is over now as she was not as innocent as he had thought.
Is Tia dating a new guy in "Ishqbaaz"?
Tia talks to someone over the phone and says that it was not possible for her to meet but she, however, goes to meet a boy. But she gets spotted by Anika as she hugs that boy behind a tree. Anika first feels bad to think it is Shivaay hugging Tia, but gets shocked to see Billu Ji coming from the other side. She wonders if not with Billu Ji then with whom is Tia getting intimate.
Just then Pinki announces moon rise and the whole family gets busy doing the 'Karwa Chauth' Pooja.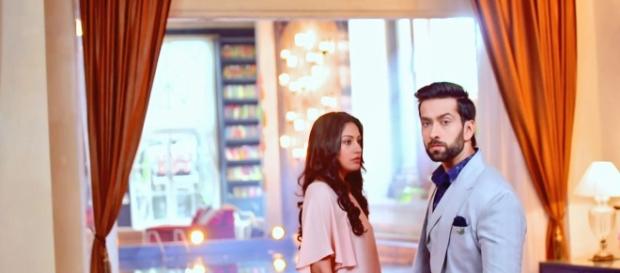 Tia is doing Pooja with Shivaye but Anika decides to inform Billuji of what she saw behind the tree. She moves towards Shivaay but slips and gets unconsciousness as she didn't eat or drink whole day.
PRECAP #Ishqbaaz @ishqbaaazfp @mansiDdreamer @vicharesiddhi19 @moonchaudhary32 @ishqbaazfangirl @Ishqbaaazian @Crazveerian @FC_Ishqbaaaz pic.twitter.com/u2JsJ1TQ6O

— SurbhiTvSeries 📺 (@maissae13) October 26, 2016
The murder mystery still remains unsolved.
Shivaye forgets Tia waiting for water and gets water for Anika.
Anika drinks water from Shivaye's hands as he holds her in his arms.Rudra gets water for Soumya as her throat got shocked as the two argued. Priyanka who is frightened as she gets a note with some clues is calmed by ACP and drinks water given by the police officer.
Shivaye ignores everyone and takes her inside the house holding her in his arms. Pinky stops him but he apologises to Tia. The love will remain the air as the show progresses as its Anika again who will discover the truth about Tia and save Billu Ji.
 Will Tia reveal the new guy in her life to the members of the Oberoi Family? Let's find out in the next episode.
Click to read more
and watch the video