'Real Housewives of Atlanta': NeNe Leakes in ugly encounter with fan at the airport
Don't miss our Facebook page!
Like Blasting News page on Facebook: we will keep you updated with all the latest news.
"Ice Guardians" is a documentary film set for release throughout October and November of 2016 that follows the history behind the role of "enforcers" on ice Hockey teams. The film dives into the world of the National Hockey League where director Brett Harvey explores the way that the teams rely on the position of the enforcer which is the most difficult—and some would say essential—role of the game. What is even less-advertised, is the number of health-problems playing this position can lead to given its violent nature. Producer Adam Scorgie readily spoke about the documentary and its subject matter.
Project  
Blasting News (BN): What inspired you to get involved with the film industry?
Adam Scorgie (AS): I always loved watching movies growing up, but it wasn't until I moved to NYC and landed my agent Mike Lyons, he got me started are the Esper Studios in New York. From there I really learned and gained the confidence that "I could actually do this"
BN: How did you get involved with "Ice Guardians"?
AS: I went to high-school with Scott Parker and Todd Fedoruk, two very prominent and succesful NHL enforcers, I became friends with them and got to know them as people and not just the fear persona's they were on the ice.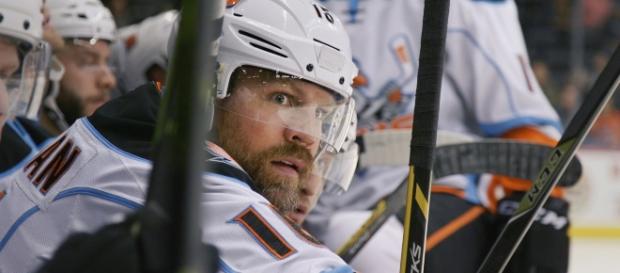 BN: What interested you about the subject matter?
AS: I found the aspect of fighting within the sport of hockey fascinating, it's what rekindled my interest in the sport and when looking for a great new subject for a documentary, the fact that fighting and violence in hockey came up every year, I knew it was something I wanted to tackle.
BN: What was the process of making the documentary like?
AS: One of the hardest things I have ever had to do, it has taken over eight years from concept to delivery to finish making this film, but my team and I couldn't be more proud of the finished product.
Goals 
BN: What are your other projects?
AS: For documentaries quite a few, "The Union: The Business Behind Getting High," "The Culture High," "I AM BRUCE LEE," "The Good Son," "The Life Of Ray 'Boom Boom' Mancini" and "Chasing Evel: The Robbie Knievel Story." I have dabbled in dramatic features, but I love docs more because they are more about a great story than cast like most dramatic films.
BN: What project is your favorite?
AS: Is there one particular genre that you most like to work in?
I would have to say Ice Guardians, only because it has been such a long, tough, journey. Most people would have quit and because my team and I have also become dear friends with many of the players from the film.
BN: What's the coolest thing about working in movies?
AS: The journey, it's all about the journey for me! Every new project is new adventure, filled with different challenges, interesting people, all kinds of knew knowledge and often times inspiration.
For me making inspirational documentaries is truly my dream job, I hope to continue making docs as long as possible. 
BN: Where do you want to be in ten years?
AS: I hope that I have become a household name when it comes to documentary filmmaking and the art of the creative hustle, simply because I love what I do and hope to continue making thought provoking films that inspire others to get out there and go after it.
BN: What's coming up soon?
AS: Yes, I'm in post on" Chasing Evel: The Robbie Knievel Story" and "Juarez 2045" just started production on "Inmate #1 The Rise of Danny Trejo".
BN: What advice would you give to aspiring documentary filmmakers?  
AS: Be ready to overcome ALOT of adversity, from all aspects of life, because anything you really want in life is going to be hard, that's what makes it so rewarding. I believe I am the perfect example of this, I am not the smartest or most talented filmmaker out there, be my tenacity and willingness to overcome all challenges thrown at me is what has allowed me to be successful and if I guy like me who barley graduated high-school can do it, so can you!
Click to read more
and watch the video