Hugh Hefner dead or alive? Hefner's death rumors laughed off by Playboy mogul
Hugh Hefner is alive and well, enjoying life and much, much younger wife at 90-years-old.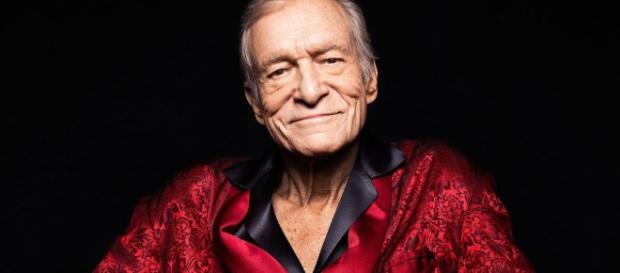 Legendary Playboy magazine founder Hugh Hefner gave fans quite a start on Friday after news began spreading across social media and celebrity tabloid sites claiming that Hefner may have died. Reports that police squads were sent out to the mansion to investigate a death had many Hefner fans believing the worst.
Hugh Hefner tweets about death news
Celebrity news site TMZ reported that they received a tip Friday afternoon that Hefner had died. The site reports that a call was allegedly made from Hefner's home reporting from an unknown party stating that they were concerned about Hugh's well-being.
They found out that a police squad was sent out to Hefner's home where officers spoke with employees who revealed at this time Mr. Hefner's health had remained unchanged for some time.
Later in the evening one of the staff members spoke with Mr. Hefner alerting him that the police had been sent out to the residence to check on his well-being. In June, Hefner sold the Playboy mansion for $200 million despite no longer being the owner Hugh continues to live out his life on the grounds of the estate he loves so much.
Hugh Hefner spends Friday night with wife, dinner, and movie
Later on Friday, Hugh Hefner called the police station personally thanking the officers for their concern and assuring them that all was well. He also later took to Twitter to let his fans know that he was fine. Jokingly, Hugh tweeted that he wished he had been made aware earlier of his demise, he would have changed his plans. He also shared with his followers that he was fine and spending the evening with his wife, Crystal, 30, enjoying dinner and a movie at home.
Hef's movie of choice, the western hit classic, "Shane."
Hef is not the only celebrity over the past several weeks to have been proclaimed dead via social media, Sylvester Stallone, Jaden Smith and both Angelina Jolie and Brad Pitt are on the most recent list of celebrity death hoax victims. Previous reports have reported that Hugh Hefner is in frail health these days and seldom leaves the comfort of his room.
Can you blame him? Hefner has lived an incredible life and exciting life during his many decades on Earth.
He has been the envy of millions of men. Leading a life most will only dream of. In fact, at his current age Hefner manages to do very well for himself, millions of dollars, loads of success, and his pick of women years his junior.
Click to read more
You will watch a video to read the news
or