'Dragon Ball Super': triple fusion mystery is solved
Finally we put an end to the mystery and tell you the truth about this issue.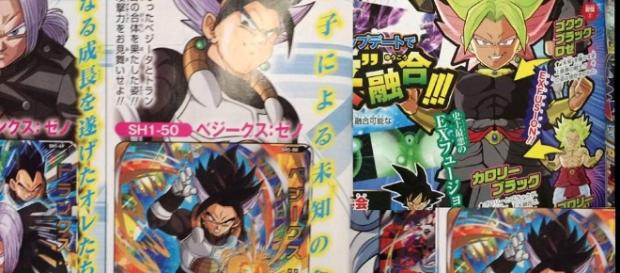 Barely a few weeks ago, a leak of a scan showing a triple fusion between Goku, Vegeta, and Trunks came out.  As we said before (and were right), this fusion is only for the game "Dragon Ball Heroes," and has nothing to do with "Dragon Ball Super." In this note we will tell you which of the things that were said about this subject are true, and which are false.
Uncovering the mystery
First of all, there is no triple fusion. The character we've been seeing is Vegenks, (you will be able to see him in the gallery with his corresponding image and card), and it's the fusion between Trunks and Xeno Vegeta, one of the greatest warriors of the game.
Some may think that the pothala earrings have something to do with Black and Zamasu, but in truth many of the characters of "Dragon Ball Heroes" (such as Demigra) wear pothala earrings also. This character (Vegenks) has nothing to do with DBS, and we are doubtful it will ever appear.
These scans also let us conclude that any title regarding a "triple fusion" for episode 66 is also fake. Even the fact that a fusion (such as Vegeto), will ever appear, is yet to be confirmed. As we always say, we have to be cautious with the information we share, analyzing each possibility, and we suppose that since there is no scan of a triple fusion at all, the titles that leaked for episode 66 are probably fake.
Now, will we see any fusion in the series? The only one that is confirmed by an official and reliable channel (such as the NewType magazine), is that of Zamasu and Black, creating a Supreme God. As for Vegeto and Gogeta, we have no official news so far.
On another subjet, we also share with you a fusion between Black and Broly for the game "Dragon Ball Fusions."
Conclusion: 
On our side, we believe that it would be interesting to see a fusion between Goku and Vegeta, or maybe a new transformation from one of them.
It would be great if any of these two things happen to end this great Trunks saga. Let's consider that it has been quite a while since we've last seen a new transformation, aside from the Kaio Ken + SSBlue variation in Goku, and the still unnamed Super Saijan 2 stage of Trunks. The first transformation wasn't even in the manga, so we doubt that it is an original from Akira Toriyama.