'Dragon Ball Super': Gogeta Super Saiyan Blue is confirmed in Japan
It has been leaked -- an image that would confirm the emergence of Gogeta Super Saiyan Blue in Chapter 66 of Dragon Ball Super.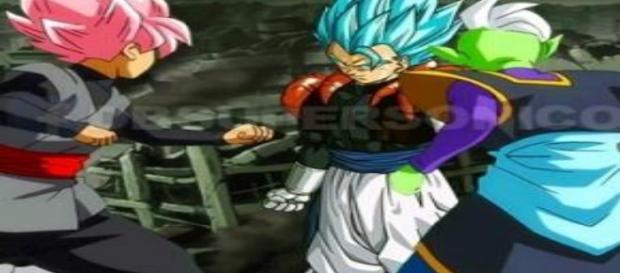 A few days ago we were able to present the coming titles for the coming chapters of Dragon Ball Super, from Japanese press clippings, whose veracity seems to have been confirmed (at least for now), after see chapter 61 of last Sunday. Thanks to these titles and abstracts we were able to meet some amazing events as the possible learning by Goku and Vegeta of the ancient technique Mafuba, which was suggested by Piccolo as the only option to defeat Zamasu. Recently is was leaked, a new image, which reveals new interesting details about the upcoming chapters of the series. Next, we will be talking about it.
The fusion of Black and Zamasu
As noted in Chapter 63, we will finally see the incredible fusion between Black Goku and Zamasu, resulting in a mysterious and incredibly powerful white-haired character, commonly referred to by fans as "Blackmasu." However, a few hours ago, it was leaked -- a new image from Twitter by a Japanese user in which you can see the titles of 62 to 65, which were published a few days ago, but for this occasion, it is added the title of Chapter 66. This image has also been shown in one of the biggest forums in Japan, and despite pending confirmation, it has been published and shared by several European pages of Dragon Ball. This new revelation, mentions a surprising appearance of Gogeta, and puts quote: "Fusion.
The anger and pride of Goku and Vegeta, the desire of Future Trunks."
Summary
In short, we will see the merger between the two villains and their opponent Gogeta, which will seek to address them. The image of which we speak can be found at the gallery of this publication. This time we will see a totally different Gogeta, because the merger will be between Goku and Vegeta in a Super Saiyan Blue God phase, and whose power would be on an unimaginable scale. We can certainly say that these next chapters approaching will be surprising.
Note
Below you will find a video further elaborating the information we have discussed here, offering further insight. Enjoy.
Click to read more
You will watch a video to read the news
or