'Dragon Ball Super': chapter 65. Official synopsis revealed
The official synopsis of Chapter 65 of the Japanese series with new surprising revelations.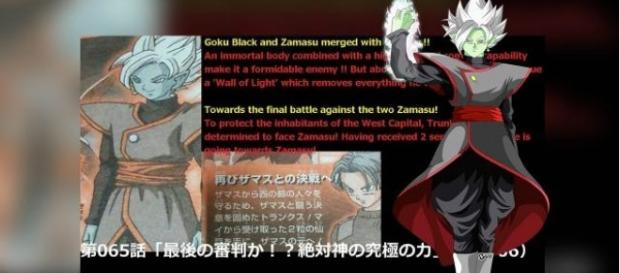 The epic series ("Dragon Ball Super"), is going through decisive moments, because the antagonists of the series will resort to the union of bodies by using the Potala earrings to carry out their macabre plan (Zero Human). In the recently released episode, we saw this amazing fusion, and as the revealed synopsis says, this new merger of the villains of the series, has really amazing powers. Next, we will be sharing with you, a little preview of the upcoming chapter, revealed by Shonen Jump Magazine, in which it shows us new surprising revelations about the plot of this series.
Synopsis of Chapter 65
According to the Synopsis revealed by Shonen Jump, Black and Zamasu merged, reaching an invincible power. The combination of an immortal body with a surprising combat capability, makes it a formidable and impossible enemy. That was the synopsis leaked today, which reveals very interesting data. One of these data -- that Zamasu, despite having merged with Black, remains immortal. On the other hand, it was mentioned that this merger will possess an incredible technique that destroys everything it touches, which was revealed by the arcade game of "Dragon Ball Heroes", although we are not sure that it can be such a technique.
Additional information 
Believe it or not, this synopsis is decisive, and it has clarified some interesting details that we still had some doubts about, such as the immortality of this merger and the name of it, which will be Zamasu, since both are the same person (as Goku Black is Zamasu but in another body), he adopted the original name. Besides that, we remind you that the voice of this merger will be simply that of Zamasu, and that there will not be a mix between the voices of both villains (Black and Zamasu).
For now, we have to wait and see what will happen in the coming days with the series, which as we know is getting to its end. Next, we will show you the progress of chapter 65, with some leaked information about this saga. Enjoy it, and stay tuned.
Click to read more
You will watch a video to read the news
or