'Dragon Ball Super': Black, Zamasu and Gowasu together. New image filtered
The actual conspirator of the zero mortal's plan could be someone unexpected.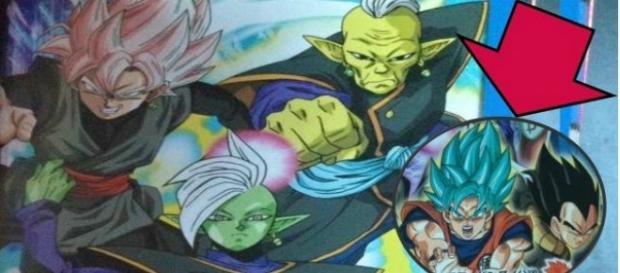 Surprising! The zero mortal's plan, posed by Zamasu of the future has been labeled the worst adversity of the moment. This would not only mean the extinction of the human race but of all living mortals, that is, any character of the twelve universes in any time and space, could die at any moment as a victim of the current villain of the series. Next, we will be talking about a new filtered image, which shows us amazing revelations.
The plot
So far, after the official premiere of episode #60 of the iconic series of "Dragon Ball Super," we see that Black is actually Zamasu, of course from some other timeline, which had aspirations to steal the body of Son Goku and change his heart.
However, something that has not been clear, is that in the progress of the chapter #61, whose plot will be released exactly this Saturday, October 8, we saw the theft of the green clays of Gowasu Sama, supreme Kaiosama of the universe 10. Indeed, it could indicate that in that episode, it could reveal the origin of Zamasu and how he got the green clays.
The new image filtered
It is assumed that Zamasu has eradicated Gowasu, in order to steal from him the clays, and the rings of time. However, a new image filtered by V-Jump magazine shows us a new design, in which we see Black Goku as Super Saiyan Rose, in the upper left of this image.
In the center we see Zamasu and in the upper left, we observe Gowasu, in an attack position. Some users and fans of the series emphasize that in a timeline, which the supreme of the universe 10, has agreed to the collaboration of the enigmatic plan of Zamasu (Zero Mortals).
As always, as we all know, the magazine V-Jump has published constantly very interesting content on the official plot of the animated Japanese video game series. We remind you that, it has also come out -- news of the possible title of the episode #63 of the series, in which Vegeta, the proud warrior of the Saiyan race, could be seen once again.
Note:
Here we leave you a video of Goku Black's secret and a preview of Episode 61. Enjoy it:

-