'DBS': Fuji TV reveals Zamasu's version that hides behind Black's body
We show you the new events of the series and the latest spoilers about it.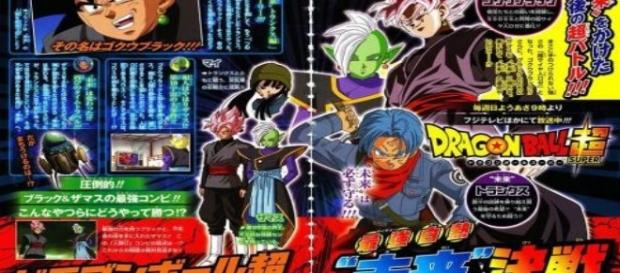 After a week full of rumors, summaries, questions, doubts and other revelations, Fuji-TV has unveiled a new synopsis for episode #61 of the series. This time, far from being a summary of what was presented by Shonen Jump Magazine, Fuji has launched a major spoiler. Although many already imagined. Next, we show you the synopsis translated into English, and all the latest details revealed recently by Fuji-TV, through its portal news related to anime, especially with this series of "Dragon Ball Super."
Synopsis of episode #61 according to Fuji TV:
Black's true identity is Zamasu in the present, which changed the body with Goku.
The forces of Black and Zamasu of the future joined and began to make a series of heinous actions, evil enough to achieve and realize their ambitions. This reveals to us who is who in the series. These new revelations confirm what we had already told you in a special note about Zamasu in the present, which entered the body of Goku, creating Black. The Zamasu we see with Black is the one of the future. But many will say, "But, Zamasu died in the present, Bills killed him." This is correct, but there are different timelines.
The timeline of the present
Basically, Trunks, with his last trip to the present, opened another timeline that follows the timeline of the present, which we call (the temporal line 5), where Zamasu does not meet his goal after being destroyed by Bills. But in the original line Zamasu of the present, gets his way and travels to the future to meet his other double. Removing Zamasu from the timeline that was created with the latest arrival of Trunks does not change anything with the other two versions of Zamasu, in which he is still alive, one is Zamasu of the future, and the other is Zamasu of the present, of the original line that was not altered.
It is worth noting that Trunks created this new timeline to warn about the danger of Black. That trip ended, changing everything and creating a new timeline.
Note
Below you will find a video further elaborating the information we have discussed here, offering further insight. Enjoy.