'DBS ep 63' - Zamasu destroys the Mafuba & the time machine
We tell you exclusively what will happen in the next episode of the Japanese series Dragon Ball Super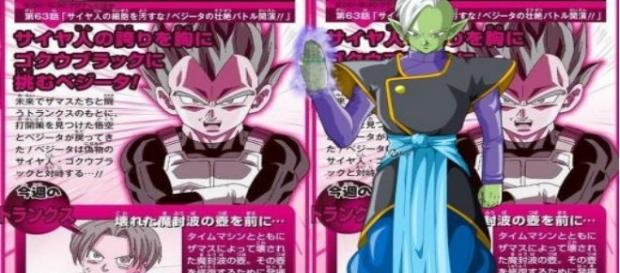 Finally, the official classical synopsis of Shonen Jump of every week, related to the next episode 63 of the series has appeared. Recall that this is the official magazine of the franchise and therefore each spoiler is totally true and original. That said, let's turn to the official synopsis of this week for chapter number 63, which bring us absolutely amazing new revelations. Let's see below.
Chapter 63, official synopsis according to Shonen Jump:
Title: Do not pollute the Saiyans cells! The curtain goes up in the intense battle of Vegeta! With pride in his heart Saiyan, Vegeta challenges Black Goku! Now the Saiyans have found an innovative solution. Goku, and Vegeta return to Trunks, who is in the future, fighting with Zamasu and Black, and Vegeta faces off against the fake Saiyan.
Restoring the Mafuba jar:
The Time Machine and the Mafuba jar are broken by Zamasu. What kind of special ability does Trunks use to restore the broken jar? As we see, this week Shonen Jump magazine leaves a lot of spoilers related to the time machine, the pitcher or container Mafuba and the anger of Vegeta on fighting the fake Saiyan (Goku Black). First, we are surprised that the time machine is destroyed. That means that it will cost a lot for the warriors to return to the past (or rather to their present).
While all this happens, Black fights against Vegeta, who angrily named him "fake Saiyan" because of contaminating the cells race and for having a body manipulated and stolen. It seems that episode 63, will be decisive in many things. We'll see how Vegeta faces Black with all his power to the top level. Also, we will see, as in the first attempt - the Mafuba fails, after being broken by Zamasu, along with the time machine. In a case of victory, how do the warriors return to their timeline? If the jar cannot be fixed, what will they do with the Mafuba? Undoubtedly, each chapter of the series gets more interesting, so according to new developments and predictions, the saga of Dragon Ball Super will have one of the most passionate ends ever seen in the story of Dragon Ball.
Note
Below you will find a video further elaborating the information we have discussed here, offering further insight. Enjoy.