'Days of Our Lives' spoilers: Guess who's coming back to cause trouble for Sonny and Paul?
'Days of Our Lives' is bring back a character from Paul and Sonny's past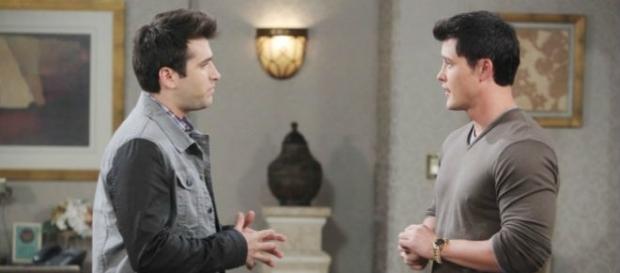 "Days Of Our Lives" viewers will see a familiar face this month as another character from the past is set to return to Salem. While fan favorite characters such as Eric Brady, Carrie Brady, and Austin Reed are set to make their returns in the near future, this character isn't so revered by fans. In fact, he played a huge part in the downfall of one of the show's most beloved couples, Will and Sonny. Soap Hub reports that Spencer Neville is reprising his role as Derrick, the behllhop who had a serious crush on Paul when he first came to town.
The character last appeared on "DOOL" back on August 25. This time around Derrick will be sharing scenes with Paul again, and could cause trouble for him and Sonny once more.
Blast from the past
As many "Days of Our Lives" fans will remember, Derrick was one of the main players in the Will and Paul cheating storyline. Will was hired to write an in depth article about Paul, the former major league pitcher, when he first came to Salem. Of course, Will had no idea that Paul was once in love with his husband, Sonny.
Will and Sonny's past together was played out in a series of flashbacks for fans to see, and we all realized just how serious their relationship was. Sonny wanted to marry Paul, but had his heart broken when Paul just couldn't live his life in the public eye as a gay man. Now, everything has changed. Will is dead and gone, killed by the Salem necktie killer, Ben Weston, and Paul is no longer in the major leagues. In fact, Paul is out and proud, and he has Sonny to think for much of that. Sonny, who is still recovering from Will's tragic and shocking death, is back in Salem after some time abroad, and has rekindled his friendship with Paul. However, fans of the soap opera believe that they'll also rekindle their romance. That is, unless Derrick has plans to get between the pair.
Drama in Salem
Meanwhile, "Days of Our Lives" viewers have been watching as all Salem residents have much bigger fish to fry than Derrick. The town is being terrorized by three escaped convicts, Orpheus, Clyde, and Xander, and it seems everyone is scrambling to figure out how to take them down, and put them back behind bars where they belong. Fans can watch "Days of Our Lives" weekdays on NBC.
Click to read more
You will watch a video to read the news
or