The trailer video of "Dangal", the much talked and long awaited project by 'Mr. Perfectionist' Amir Khan was released today, and it promises the most sumptuous film bonanza around Christmas.
From the first looks of the movie directed by Nitesh Tiwari and backed by Amir Himself, the film seems incredibly promising and brings freshness to the audience. The film is based on the most inspiring story of the Phogat sisters, Geeta Kumari Phogat and Babita Kumari Phogat who are wrestler daughters of Mahavir Singh Phogat played by Aamir Khan.
The biographical drama produced by Amir, Kiran Rao and Siddhartha Roy Kapoor, has Amir donning various interesting looks including the 'Pehlewan' father of young girls.
Amir is truly a perfectionist as from his looks in the trailer he seems to have done a lot of physical training and trust our words he has justified all his looks in the film.
New faces in 'Dangal'
The film looks exceptional as after a long time Amir has shared the screen with new faces. The film marks the debut of four female actors, Fatima Sana Shiekh playing Geeta Kumari and Sanya Malhotra as Babita Kumari. The younger versions of the two wrestler daughters are played by Zaira Wasim and Suhani Bhatnagar.
The audiences were anxious to know about Fatima and Sanya, and now the trailer has revealed that Fatima is the same young Girl who played Kamal Hassan's daughter in "Chachi 420".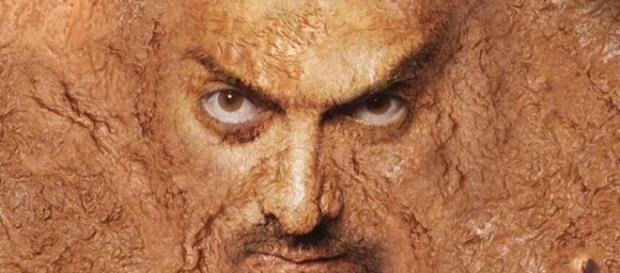 Both Sanya and Fatima have adopted the leaner body and bob hair looks to suit the role of female wrestlers from Haryana.
I will not waste my money on Dangal instead I will donate it to needy #LetsBoycottDangal

— Karan Sharma-Karna (@IKaransharma27) October 20, 2016
Pritam Chakraborty gives the music in the film, and the trailer of the movie promises audience that all tunes will do justice to the track of the movie and a great sound for their ears.
Twitter reactions on Dangal trailer:
There were mixed reactions on the trailer as people still remember his intolerance remark on India.
We're gonna make movie of @aamir_khan superhit & put money in his pocket so he can again say "My wife feels unsafe in India"👏 #DangalTrailer

— ❄ Valerie ❄ (@Valerie_Sings) October 20, 2016
"Dangal" sure makes a party size entertainment pack with a hard hitting exciting story line of two wrestler sisters from Haryana who were encouraged and trained by their father and coach Mahavir Singh Phogat to make proud to the nation by winning the medals at Commonwealth Games.
If it can't inspire, it's not a good biopic & this #DangalTrailer just gave me goosebumps.
"Bohot ho gayi pehelwani, ab toh DANGAL hoga!!"

— Mrs. Tony Stark :D (@BrushUrTeeth_03) October 20, 2016
However, the film is an Amir film and he dominates the movie and interesting is the raw Haryanvi accent adopted by him in the film.
The trailer makes the audience more anxious and curious about the film so keep looking for more updates till and after the film releases.
BecoZ after @karanjohar will a video drama like Aamir's 'country first' come before the release of Dangal?

So best is #LetsBoycottDangal pic.twitter.com/ITXW0KQcLk

— Sourish Mukherjee (@sourishVHP) October 20, 2016
Click to read more
and watch the video