'Dancing with the Stars' homeward bound - Amber Rose conjures up self-fulfilling prophecy?
Amber Rose seemed disenchanted on 'DWTS' lately as she had even threatened to go home during a meltdown, but last night she finally got her wish!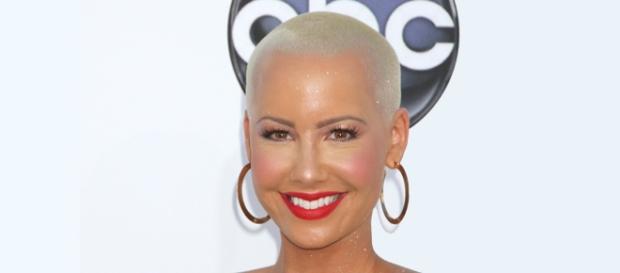 "Dancing With The Stars" contestant Amber Rose got her partner so frustrated at practice that he hauled off and punched a mirror. Rose wasn't making it easy for the "Dancing with the Stars' pro, Maksim Chmerkovskiy, with her tears and whining looking very much like a meltdown. The two were seen on camera having it out when she threatened to leave practice and go home.
Be careful what you ask for
Maksim refused to let Amber leave practice asking her if she would at least do this for him, but she zipped away in her pink jeep ignoring his pleas.
While she did eventually come back to practice, it was later that night that she became the victim of a self-fulfilling prophecy. She didn't have to ask to go home, she was sent packing by the "DWTS" judges.
Double 'DWTS' meltdowns
When the going gets tough, the tough have a meltdown? At least it seemed that way with Amber having consecutive meltdowns at her last two practice sessions. Rose's partner Maks voiced his frustration as she was just not getting the moves she needed for the cha cha they were set to dance on Monday night's episode of "Dancing with the Stars," reports Fox News.
Amber Rose gets her wish... she goes home!
If you saw the show then you know that Rose still hadn't mastered the dance by Monday night with a judge's score 28 out of 40. The couple scored within the bottom two and it was Rose and Maks who were ousted from "DWTS." Amber got her way, she was going home!
Cha cha not an easy feat
Rose found this dance competition hard, harder than she ever imagined. Besides the two meltdowns, she had been captured on camera before moaning about just how hard this is.
While Maks wouldn't let her throw in the towel, it seems it wasn't in the cards for Rose to dance her way to the top of "Dancing with the Stars."
All is well that ends well!
After Rose and Maks had that argument, the two made up rather quickly. Maks said he was just playing it up to the cameras when he punched the mirror. Apparently he thought it would add a bit of spice to this "DWTS" episode. He's a pretty good actor, as he looked like he meant it when he let that punch go!
Click to read more
and watch the video
or