Catelynn Lowell and Tyler Baltierra face divorce on 'Teen Mom OG'?
Catelynn Lowell and her husband are seen feuding on the upcoming episode of 'Teen Mom OG.'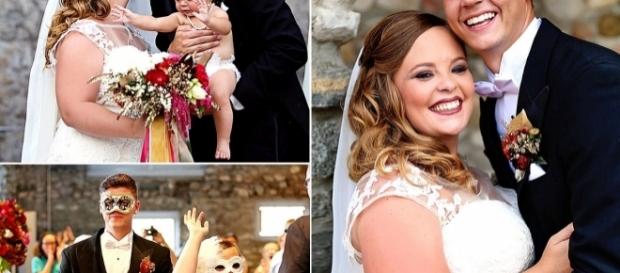 Catelynn Lowell and Tyler Baltierra have hit a rocky patch on "Teen Mom OG." During the next episode of the MTV reality series, which airs tomorrow night, the longtime couple will be seen enduring Lowell's rough adjustment to being back home after rehab. During an earlier episode of the show, fans watched as Lowell made the decision to travel to an Arizona-based treatment center, where she addressed her mental health and struggles with anxiety and depression. As fans may recall, Lowell's fellow MTV star, Leah Messer of "Teen Mom 2," also addressed issues of anxiety and depression in an Arizona rehab just one year prior. 
After spending 30 days in treatment, Catelynn Lowell returned to Detroit where she shares a home with Baltierra, her husband of one year, and after she arrived back home, she began to experience marital troubles with her longtime love. As OK! Magazine revealed on September 30, Baltierra is attempting to help Lowell rebuild herself, but it isn't going too smoothly.
Catelynn Lowell's mental health struggles are negatively impacting her marriage
After Baltierra admits to Lowell that he doesn't want any resentment to arise between them, Lowell is seen lying on a couch wrapped in a blanket. As Baltierra continues on, telling his wife that this is probably the worst year that they've had in a very long time, Lowell gets teary-eyed and tells Baltierra that she feels that her mental illness is ruining everything. In response, Baltierra informed her that he couldn't go on like this forever.
During a therapy session later in the show, Catelynn Lowell's depression struggles were put on display as she admitted that she feels that things would be much better if she wasn't around. Lowell and Baltierra gave their first child, daughter Carly, up for adoption in 2009 and in 2015, they welcomed a second child, daughter Novalee Reign, who they are currently raising together.
To see more of Catelynn Lowell and her husband, Tyler Baltierra, as well as the rest of the cast of "Teen Mom OG," tune in to new episodes of the show on Monday nights at 9 p.m.
on MTV.
Click to read more
You will watch a video to read the news
or