Boy found in heroin car with Rhonda Pasek, James Acord: what's up in East Liverpool, Ohio?
Dr. Oz explores East Liverpool horror: what happened to the "heroin boy"? Where is the child found in a car with strung out Rhonda Pasek, James Acord?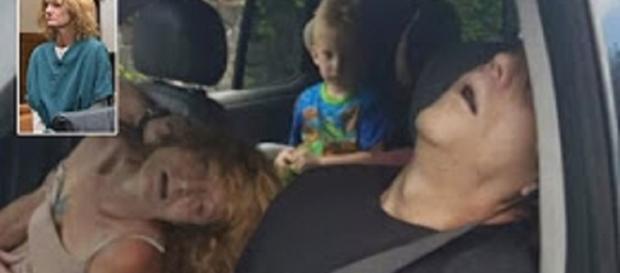 What ever happened to the boy found in the backseat of the "heroin car" in East Liverpool, Ohio? Police posted a picture of the interior of a car and occupants on social media and it went viral. Dr. Oz recently explored this sensation and the backstory on the "heroin boy" is as sickening as the faces of the adults in the front seat. Who are they? What happened? Why did police circulate such a graphic photo?
East Liverpool, Ohio heroin car horror 
Ohio police pulled over a car that was driving erratically.
The driver rammed into a curb and narrowly missed hitting a school bus. Officers arrived to see a mind-boggling sight. A little boy clad in pajamas sitting in the back while in the front were what looked like two corpses. Passenger Rhonda Pasek, 50, and driver, James Lee Acord, 47 looked dead (the driver maybe sleeping). But police knew better--the pair were strung out on drugs, probably heroin. As shocking as images of heroin overdoses are for the non-drug using public, they're everyday for cops, explained one officer.
It was pretty much confirmed by pink powder and a needle found in Pasek's hand. 
"Heroin boy" photo incenses
What haunted everyone, including cops, was the 4-year-old child in the back seat. His face was wide-eyed with bedhead, looking on innocently. Police posted this picture on Facebook to wake people up to the faces of heroin. Folks were furious at Pasek and Acord and some at the police department for sharing the image. They claimed the boy was already violated by his parents' unthinkable act, now his privacy was violated and perhaps his entire life. Internet searchers have taken to calling him the "heroin boy" as though, as a guest on Dr.
Oz pointed out, he was the perpetrator not the victim. 
Hellish backstory 
Everyone assumed Rhonda Pasek was the child's mom and James Acord, his dad. But they weren't--they were grandma and boyfriend. The boy's mom Reva McCullough is a stripper and crack cocaine addict and his deadbeat dad (Pasek's son) isn't involved in the child's life. Dr. Oz offered to pay for McCullough to go to rehab but she just wanted money for her story. Reva cried on the New York Post that since this happened, she wants her boy back.
Pasek got custody because her own parents who cared for the boy were too elderly. That great-grandparents were favored over grandparents is interesting. Here's a video from a kid who found her parents strung out on heroin. Warning: it's weird.  
Hope for happiness
So what happened to granny Pasek? She pled not guilty to child endangerment, operating impaired and seatbelt violation. She got 6 months in jail and Acord got 360 days. The child is living with great-aunt and great-uncle Lori and Terry Lane of Myrtle Beach, South Carolina.
It's hoped that his anonymity can be salvaged. Already he's been recognized and doesn't have many age-mate friends. Perhaps instead of "heroin boy" he should be called "hero boy" for all he's been through.
Click to read more
You will watch a video to read the news
or