Andrea Tantaros sparkles back on TV with stained laundry of former Fox colleagues in tow?
Fans missed her on Fox, but Andrea Tantaros hasn't changed over time as the popular news analyst is ready to do battle in open court!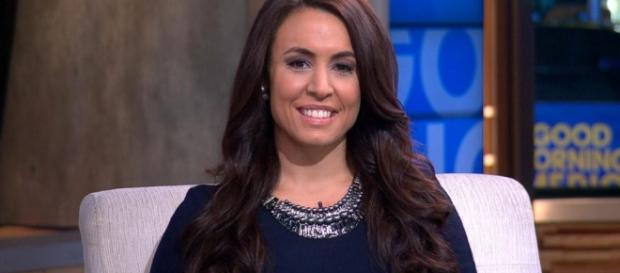 Andrea Tantaros was never one to march to the beat of the same drummer that her co-workers were dancing to during her career as a news analyst on Fox News. After her recent visit to "Good Morning America" you get the distinct feeling that she's not about to change any time soon.
'GMA'
During her recent appearance on the ABC morning show, Andrea talked about the allegations she has made against Fox News and some of the on-air and off-air personalities. She also explained why she is refusing arbitration in lieu of a court trial.
Her decision to do so has left the head honchos at Fox News fuming, most likely because they don't want to take this into open court where all could spill out and reflect badly on them.
'Accountability!'
According to The Hollywood Reporter today, Fox News had something to say after hearing what Tantaros shared during her "GMA" appearance. Tantaros is looking for justice after the CEO of Fox News, Bill Ailes, along with other men at the cable station had made unwanted advances toward her while she was employed at the Fox News channel. 
Fox has just settled similar cases with several other women, including Gretchen Carlson, who was a set figure on "Fox and Friends" for years.
This group of women agreed to arbitration and settled their suits behind closed doors. Tantaros, who is suing for "tens of millions," is refusing arbitration because she believes that process offers no accountability for these actions, just payoffs.
Tantaros filed a lawsuit against Fox and she included the names of Ailes, Bill O'Reilly and former Senator Scott Brown as well as others on the Fox payroll. Fox has made a strong pitch to the judge in this case as to why arbitration would be the way to go in the Tantaros case.
Among other things, Fox claims the contract Andrea signed with them mandates for arbitration rather than an open court of law and they've asked the judge to honor that.
Contract woes
So from Fox's point of view, to bring this to a jury would go against her contract, a contract that Tantaros claims Fox was the first to break when leaking stories to the press that put her in an unflattering light. She insists Fox broke that contract long ago. 
Tantaros wants spotlight?
Fox News did not leave it at that, they have also claimed Tantaros wants to get her name in the spotlight, which would help her sell copies of her book by having an open court trial.
Tantaros had come up with a compromise, which entails her dismissing her lawsuit against Fox and going after the individuals named in the suit in open court, which would include O'Reilly, Scott and others. This again is all about accountability for Tantaros.
Fox called this suggestion nothing less than "astonishing" because Fox would still be very much involved when it comes to their purse strings. According to Mediaite, Tantaros said that the culture over at the Fox News channel needs to change and folks need to be held responsible for their actions.
Fox culture
That includes the traditional response from Fox when incidents such as this happen. Up until the lawsuits were filed when a sexual harassment incident was reported, Fox news allegedly retaliated much like they did with Tantaros, who was demoted then ousted. Fox maintains she was taken off the air after she broke her contract by releasing her book, one they hadn't signed off on. 
No to pay-offs!
As of today Tantaros is standing with her feet firmly cemented in a path to bring this lawsuit into an open court where all involved will be exposed and accountability will be assigned for these actions. Financially she would probably be set for the rest of her life with what Fox will most likely offer her during an arbitration of the case.
The other women who filed lawsuits walked away with a fortune. Carlson was handed $20 million and she quietly disappeared. Not Tantaros though, she wants something more to come of this other than the almighty dollar, something that she says has kept Fox out of the courtrooms for years!
Click to read more
You will watch a video to read the news
or