A deep sea filled with emotions, tears, grief, and revenge; this is how we can define "Thodari" in a single sentence. This Prabhu Solomon directorial which featured dhanush in the lead role reached the screens all around us on September 22, 2016.
The movie release has been delayed in the state of Karnataka due to the unrest on the Kaveri river water sharing issue between the two states.
Initial reports coming out from the theaters are quite exciting, as the acclaimed filmmaker has succeeded in crafting a thrilling ride in the backdrop of a train journey. 
'Thodari' is a story of a pantry worker
The "VIP" star is seen in the role of an Indian Railway pantry worker Poochiappan (Dhanush), while Keerthi Suresh enacts the character of a young girl Saroja who is labeled as a terrorist. Romance blossoms between the two, but things are not that easy for the couple. 
In the meantime, a train hijacking story too develops, which elevates the overall tension.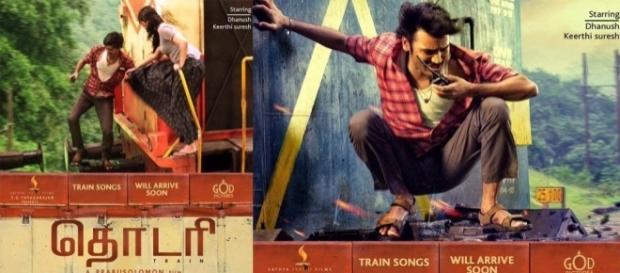 Terrorists who travel in the same train also creates a master plan to kidnap a minister.
In the midst of all these complex scenes, Poochiappan and Saroja try to find a way to sort out the intense proceedings. In the end, the film gives a shocking surprise to the audiences, and it is the main spoiler of the movie. 
Watch trailer video
Prabhu Solomon's perfect narration has succeeded in taking the film to the next level. The entire tale is being portrayed in the backdrop of a train journey, and Prabhu has managed to make it as engaging as possible.
Unlike his previous movies which adopted slow narration, things are different here, as he has adopted a pacy storytelling style. 
#thodari FROM TODAY :) hope you all like the film. #d30 #spreadlove #nopiracy

— Dhanush (@dhanushkraja) September 21, 2016
With elements of thrill, audiences are compelled to sit on the edge of their theater seats most of the time. 
Top notch performances
#Thodari Started With Good Premiere Reviews..Wishing #Thodari A Huge Success At BO Behalf Of All @actorvijay Fans:) pic.twitter.com/PqNPXr5BFZ

— Jilla GOWtham (@gowthamvjfan) September 22, 2016
All the actors have done their roles exceptionally well. Dhanush was excellent in his role, while Keerthi Suresh looked ravishing.
The supporting star cast which includes, Ganesh Venkataraman, Thambi Ramaiah and Karunakaran too did their respective characters well. 
#Thodari - Watchable for Lovely performance of @dhanushkraja & @KeerthyOfficial .Keerthy's daring train sequences is appreciable. Rock On

— First Day First Show (@fdfscinema) September 22, 2016
Box-office collection
Considering the number of theaters it has released across India, the film will earn more than Rs 15 Crores by the end of this weekend. 
#Thodari some stunning visuals await the second half, but confusing logic, comedy, insults, revenge and all that.

— Hari (@HaRyblog) September 22, 2016
'Pink' Hindi movie released last week.
Check out the review and public response here.
#Thodari - #PrabhuSolomon still stick to his style of films. Poor screenplay makes us tired, length could b shorten,CG could've been better

— First Day First Show (@fdfscinema) September 22, 2016