Pregnant Janet Jackson gains 100 pounds in first tri of risky 50+ pregnancy on bed rest?
Doctors put Janet Jackson on bed rest after gaining 100 pounds in first trimester of her already high risk pregnancy at 50, if rumor is true.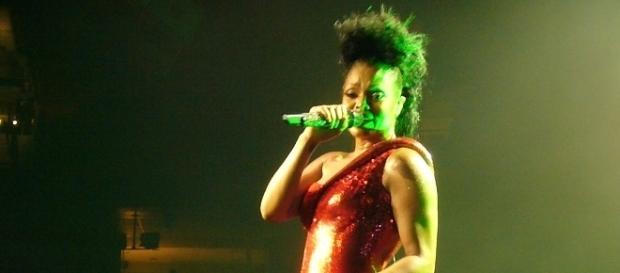 Pregnant Janet Jackson has been put on bed rest after her 100-lb weight gain in the first trimester of an already high-risk pregnancy at 50, if a magazine report is to be believed. The "Rhythm Nation" singer shocked everyone when she announced in May that she was expecting her first child with husband Wissam Al Mana. Since then, Jackson's gone incognito which rumor further states is down to ballooning to 250 pounds. If she gained that much in pregnancy doctors would be concerned not only for the health of the baby but Jackson's own health.
A lot of celebrities like Carrie Underwood struggle with extra pounds gained in pregnancy. There's controversy over Janet's alleged pregnancy so late in life. Questions are being asked about the real reason the singer went into seclusion.
Janet Jackson on pregnancy bed rest, ashamed of gaining 100 pounds, or just wants privacy?
Since announcing a bun in the oven in May, Jackson has been pretty much off the radar. That, along with her advanced age, gave rise to concerns for her health. And some folks, less concerned and just plain cynical, suggested that Jackson wasn't even pregnant and was just embarrassed about getting fat.
An insider (who may or may not be that close to Jackson) reported that pregnancy was taking its toll on Jackson and so her doctors placed her on bed rest. Still others suggested that the mother-to-be just wanted some privacy. The only family member to comment was Tito Jackson who said simply that they were hoping for a healthy baby. 
Is pregnancy after 50 even possible?
Yes and no--usually by 50, menopause has set in and fertility drops. But the unpredictable nature of the menopausal menstrual cycle means women who thought their periods had stopped may conceive when a rogue period shows up.
But those surprise pregnancies also have a very high miscarriage rate. So conception wouldn't be impossible for Jackson, but keeping the pregnancy might be harder. The biggest risk factors in pregnancy along with age are health of the mother, maternal obesity and how much weight she gains. Obesity poses risks for gestational diabetes and other complications. Janet Jackson debuted dramatic weight loss several years ago and so started at a healthy weight. But gaining 100 pounds wouldn't bode well at all, let alone putting on that much in the early weeks of pregnancy alone. 
Click to read more
You will watch a video to read the news
or