Octomom Nadya Suleman excuses drug addiction, porn, and the reasons will blow your mind
Xanax addict Nadya Suleman defends prescription drug abuse, porn, spins dizzying slippery slope of excuses, logical fallacies lawyers would envy.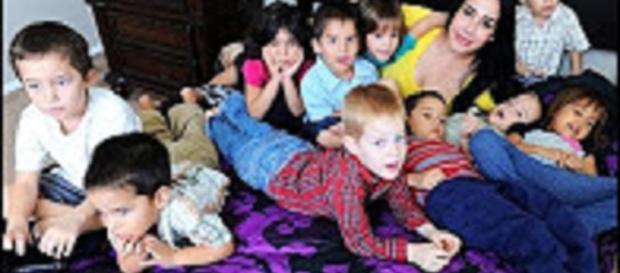 Clearly, #octomom #Nadya Suleman missed her calling. In explaining her prescription drug addiction she wove a dizzying slippery slope of excuses any lawyer would envy. The logical fallacies Nadya (who now goes by Natalie Suleman) uses to defend her Xanax habit will blow your mind. Well, maybe not given Suleman's consistently mind-blowing behavior. The single welfare mom of 14 had IVF octuplets while receiving state aid and that's only the beginning. And even more mind-boggling is the fact that Octomom has purportedly gone back to her psychiatric counseling job--physician heal thyself? Listen to Nadya's substance abuse rationale. 
The Octomom oddity
Rewind to 2008: Nadya Suleman elects to have invitro fertilization and gives birth to the first complete set of healthy octuplets ever.
But wait, don't cue lullabies yet--because this single mom already had six kids on welfare and lived with her parents. She'd been having IVF since she was 21 which she claimed to have paid for with "private" income (don't forget the welfare). That turned out to be disability payments totaling $168,00 for a back injury which made her unable to work. Octomom could however carry and birth eight babies. She also had plastic surgery. 
Fraud, debt, bankruptcy, porn (and more plastic surgery)
Public sympathy for Nadya turned to outrage. Amid lies and denials, she ran up over a million dollars in debt, was found guilty of cheating the welfare system (she still receives it though), filed bankruptcy, estranged her parents, and had to auction her La Habra, California home which folks had sacrificed to provide for her.
And still the 14 kids had to eat. $3,000 a month in foods stamps and state aid wasn't enough so she turned to stripping and porn. This required more plastic surgery (boob job, lip implants, tummy tuck) and more debt but the dividends paid off. She forgot to list her porn star pay and got busted for welfare fraud. 
Nadya needed to "numb"
In all this drama, Suleman maintains she always did what was best and always for the kids. Other single moms will understand why she became a porn star. None of it was her fault, she was the innocent. But yet Nadya felt a lot of guilt. She was ashamed of posing naked, working as a stripper, making dirty movies, etc, but it was either exploit herself or her octuplets, she says. It is hoped she means in a reality TV show. Well, no network was offering so that was a moot point. So she tranquilized to cope with her "disgusting" (her word) children. Pretty soon, Suleman was a Xanax addict. She had to be hospitalized (on the Medicaid dime, don't forget the welfare). But now Natalie has quit porn, gone back to nursing, plans to finish her Master's, and has put Octomom behind her. #Celebrities