Barack Obama: The former-president delays the release of his new book
Don't miss our Facebook page!
Like Blasting News page on Facebook: we will keep you updated with all the latest news.
As if Michael Strahan doesn't have enough to do, he has another gig. The Hall of Fame defensive end and Patriots quarterback Tom Brady are set to team up for a new television series. The two men might seem like an odd couple, but they do have football in common. Religion of Sports will be produced by Strahan, Brady, and six other executive producers. The series will focus on how sports affects society. The program debuts on the Audience Network on November 15, 2016. 
'Religion of Sports'
Brady related that because of his knowledge and perspective of football and the sports world, he can share a lot with the public.
The 39-year-old believes the upcoming series will be a great vehicle for him to share what he has learned from his many years as a football player. He, along with the other producers, believe that there is a spiritual experience associated with sports. Strahan feels the same way. The 44-year-old believes sports bring people together no matter what barriers exist among them. He cited barriers such as race, religion, and economics. The new full-time host of Good Morning America concludes that the docu-series will bridge the gap between sports and religion. It could be a way of bringing people together because of their love for sports.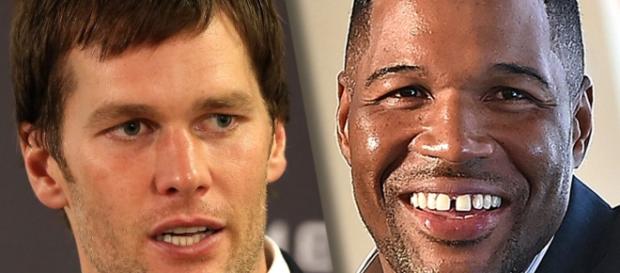 What to expect from Strahan and Brady's new show
Religion of Sports has the green light for six hour-long episodes. Of course, the main focus of the show will be on sports. Don't think it will be limited to only football just because Strahan and Brady come with backgrounds in football. The first season of the new show will be about NASCAR events, the CFL's Calgary Stampede, MMA fighting, and the rise of the UFC. 
Did you think in your wildest imagination that sports and religion would mix?
It does seem like an appealing concept. The producers hope that enough people will be interested enough in this type of programming that the series will continue after the already approved six episodes. What do you think? Is this a television series you are interested in watching? 
Click to read more
and watch the video