Kourtney Kardashian is planning to have more children, who will be the father?
Kourtney Kardashian says she wants even more children. What about Scott Disick?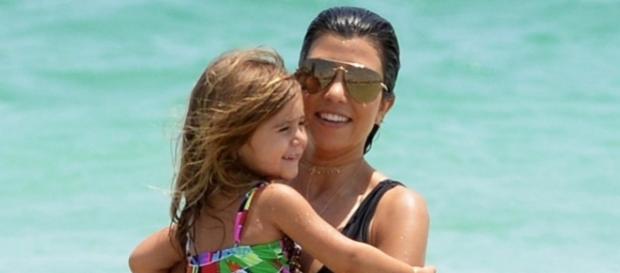 Is Kourtney Kardashian pregnant again? Not yet, but if the "Keeping Up With The Kardashians" star has her way she'll will be in the future. Kourt recently revealed that she wants to have more children. According to reports, Kourtney Kardashian loves being a mom, and wants nothing more than to expand her family. Currently, Kardashian has three children; Mason, Penelope, and Reign with ex-boyfriend Scott Disick. If Kourtney has more children, will Scott be the father of those kids as well?
Kourtney Kardashian wants to get pregnant again?
Kourtney Kardashian recently revealed in an interview that she can definitely see herself having more kids.
In fact, Kardashian says she'd love to have six children. However, the reality star is 37-years-old and claims she just doesn't know if more babies are in God's plan for her.
"Keeping Up With The Kardashians" fans watched as Kourtney and Scott struggled to keep their relationship together for ten years. The couple's relationship was nearly always rocky, and even though they tried things such as therapy, nothing would change for long. Disick's substance abuse issues were a big reason why the couple just couldn't seem to make it work.
Kourtney and Scott's rocky relationship
However, Scott Disick is still very much a part of Kourtney Kardashian's life and family. Not only because the couple share three children together, but also because her siblings and mother consider him part of the family forever. He often goes on family vacations with the Kardashian clan, and is invited to special events although he and Kourtney are no longer together.
Kourtney finally had enough of Scott's antics and dumped him in the summer of 2015. Kardashian claims that being able to focus on herself and her three children without the pressure of her relationship with Disick has been "good" for the family. Only time will tell if Kourtney Kardashian will add more kids to her family.
However, she could always adopt a child. Celebrities such as Angelina Jolie, Sheryl Crow, Sandra Bullock, and Charlize Theron have all adopted children as single mothers.
Click to read more
You will watch a video to read the news
or