Is Vicki Gunvalson getting her own 'Real Housewives of Orange County' spinoff?
Vicki Gunvalson recently shared a very telling re-tweet about her future with Bravo.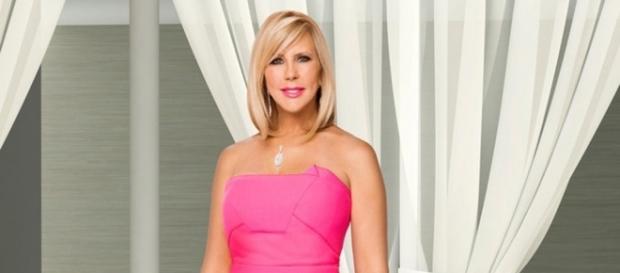 Vicki Gunvalson and her family have been featured on The Real Housewives of Orange County for the past decade and show no signs of backing away from the Bravo reality series anytime soon, but could a spinoff be next? Although Bravo has not yet spoken of any such plans for Gunvalson and her brood, the reality star appears to be on board with the idea and recently shared a re-tweet from a fan.
"I think it would be awesome [for] [Vicki Gunvalson] to have a family-esq spinoff! I love her family together. Such a genuine bond," read the re-tweet, which was addressed to Real Housewives creator Andy Cohen.
Vicki Gunvalson has been accused of acting on 'RHOC'
Also on Twitter this week, Gunvalson was faced with a comment from a fan who suggested she was acting on the show and should walk away after being called out for lies during the series' 10th season. As fans will recall, Gunvalson's former boyfriend, Brooks Ayers, was accused of lying about having cancer on the show and because Gunvalson stood by him, she was accused of the same. After telling a fan that she doesn't do "story lines," Gunvalson explained to another fan that she also didn't lie.
Instead, she claimed, she believed someone who lied to her. "I didn't lie - he did! Also, I'm not an actor, this was real life stuff," Gunvalson explained.
Vicki Gunvalson has a new man in her life
Earlier this year, months after announcing on Facebook that she and Ayers had ended their relationship after spending a couple of years together, Vicki Gunvalson began dating Steve Lodge and he appears to be a total hit with her family, including her daughter Briana Culberson. Although Culberson was not on board with Gunvalson's romance with Ayers, she has been seen in photos with Gunvalson and Lodge, which suggests she is a fan.
For more of Vicki Gunvalson and her co-stars, tune into new episodes of the 11th season of The Real Housewives of Orange County every Monday night at 9 p.m. on Bravo TV. Tonight's new episode will be preceded by a social special at 8 p.m.
Click to read more
You will watch a video to read the news
or