'DragonBall Super': Black's true identity leaked.
We analyze a scan of Shonen Jump magazine's latest issue that just recently leaked.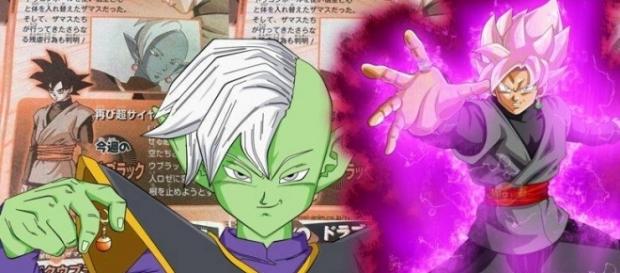 After a long wait, Black's true identity and his relationship with Zamasu are revealed. This is related with what we've been talking about regarding Black's origins. Many fans hate theories, since they think stories always go the other way around, but as we all know, there are always exceptions, and the exchange of these ideas is always fruitful. If you want no spoilers from the next episode, then stop reading this note! 
Synopsis of episode 61, from Shonen Jump magazine:
Title: Zamasu's ambition.
The "0 mortals" plan is revealed
Subtitle: The true identity of Black Goku! 
Translation 1: it seems that Zamasu uses the Super Dragon Balls to change mind and body with Goku
Translation 2: Zamasu used the Super Dragon Balls to change Goku's mind and body.
Analysis
The terrifying deeds of Zamasu and Black Goku were leaked as well! Black understands that Goku and the rest of the Z-Warriors are the biggest setbacks to achieve the "0 mortals" plan, and he transforms into Super Saiyan Rose to finish them all! 
On the internet, most of the sites take as valid the first translation, explaining that Zamasu changes his mind and body with Goku's, saying, he gets inside Goku's body. This explains why many sites say that Black is Zamasu, yet the scan never makes reference to this fact.
The synopsis is confusing, but we may accord with the second translation which explains that Black is Goku, with his mind and body changed (Zamasu's mentality, and the body filled with a Ki as dark as Zamasu, which explains why his Super Saiyan transformation is rose and not yellow).
Let's recall that a few days back, V-Jump magazine published that the Super Saiyan Rose transformation is the base Super Saiyan transformation, so we understand that the Super Saiyan Rose transformation is much stronger than the base Super Saiyan stage. We also imply that Black's SS Rose transformation is equal in power to that of SS Blue. The other translation confirms that Black is Zamasu, but in Goku's body.
We leave the debate open, but hold to our theory that Black is in fact Goku from the present time, but a few years older and possessed by Zamasu, or maybe Goku from that strange timeline 4 from Cell's saga. 
Click to read more
and watch the video
or