'Dragon Ball Super': did Zamasu create Black or is he really Goku?
We share some interesting theories about this mysterious character who looks like Goku.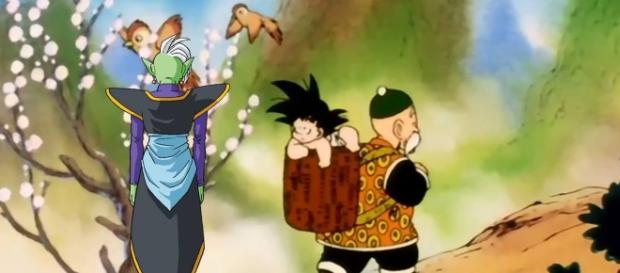 There are many questions regarding Goku Black, the main antagonist of the Future Trunks Saga. Several theories have been made about this character, all the Dragon Ball fans are eager to know about his origin and identity, especially since his physical appearance is identical to Goku's. Also, we all want to know why did he ally himself with Zamasu, they have a very similar Ki and Black is somehow "possessed" by Zamasu. If Black is not Zamasu, who is he really? Here we will share some interesting theories that could turn out to be true.
Black is Goku and Zamasu travelled to the past
As you might know, Goku was sent to Earth as a baby and was found in the woods by Son Gohan, who became his adoptive grandfather. Gohan tried to take care of him, but Goku was very violent, hyperactive, bad-tempered, and didn't obey him at all. One day Goku fell off a cliff and hit his head, suffering a serious head trauma. After this incident, he became a kind and fun-loving child, exactly the opposite of what he was, he lost his aggression and forgot about his mission to destroy Earth, becoming Earth's hero.
Is it possible that Zamasu travelled to the past and kidnapped him before he hit his head in order to raise him and increase his Saiyan aggression? Well, if this is what happened, it's possible that Zamasu travelled to the past in order to know more about his biggest rival and there he found out about his hit on the head and how it has changed him, so then he travelled to that time to prevent Goku from falling off a cliff and to kidnap and "recruit" him (to later become Goku Black).
Zamasu created Black using Goku's DNA
Another possibility is that Zamasu took Goku's DNA and created Black.
But how did Zamasu get Goku's DNA? Well, Dr. Gero's computer is probably working during the Future Trunks timeline, it kept working even after its creator's death, so maybe Zamasu somehow found out about Dr. Gero's plans while he was travelling in time and decided to steal the DNA that was in the computer. That computer also contained enough information about Goku, which is something very useful to Zamasu so he could create a warrior based on Goku.
Click to read more
and watch the video
or