'Dragon Ball Heroes': a new character and Towa's transformation are revealed
We give you the latest news about the most successful game of the Dragon Ball franchise.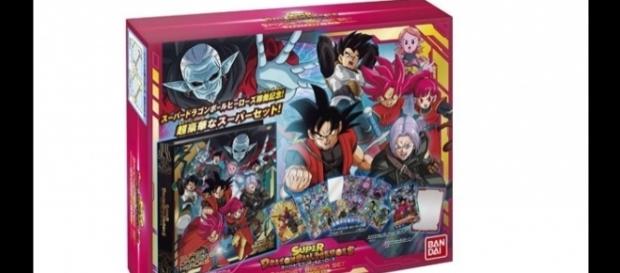 "Dragon Ball Heroes" is one of the best games, if not the best of the Dragon Ball franchise. It's a card-based arcade game and unfortunately, it's only available in Japan.  There is also a version of the game for the portable game console Nintendo 3DS. Dragon Ball Heroes is the most successful digital card game in Japan since 2010, the year it was released. There will be a new version of this game called Super Dragon Ball Heroes with a new storyline that includes, for example, the Future Trunks Saga and Black's evil plan. In addition to this, there will be a new character and a new transformation of Towa. The game should be released this fall.
The new mysterious character
This new character appeared in two videos of the game without showing his face.  Finally, his face has been revealed on the box of the game (as you can see in the photo gallery), but his name is still unknown. Judging from what we saw in those videos, he seems to be an evil God-like Demigra, and the leader of the Time Breakers, since all of them are bowing to him. He is believed to be the main antagonist of the game and the true leader of the Demon Realm. The villain looks old, he carries a staff with an orb at the top just like Demigra, and wears purple Potara earrings. Is he more powerful than Demigra? We think that this new character could have a bigger role in this game.
 You can watch the videos here:
Towa's new transformation
The box of the game also shows a new transformation of Towa, the female demon and one of the main antagonists of the game "Dragon Ball: Xenoverse." In this picture, it seems that she has horns and a different appearance of course.  The new villain of the game is somehow connected to Towa. In the trailer that was released some months ago, the mysterious character seems to be "resurrected" or freed by Towa.
Will we see this villain in the Super series?
Probably you will hear that this new character will appear in the Dragon Ball Super series, but we doubt this will happen.
As fans, we would love to see in the Super series for example the Supreme Kai of Time, Demigra, Mira and other characters from the games, but this will not likely happen. Until this day, Toriyama has never incorporated elements of the games to the manga and anime. The storylines of the games have no relation whatsoever to the manga and anime series, that's why in the games we see some different characters in addition to the ones that we already know.   
Click to read more
You will watch a video to read the news
or