'American Idol': Laine Hardy breaks social media silence with an Instagram story
Don't miss our Facebook page!
Like Blasting News page on Facebook: we will keep you updated with all the latest news.
It's time for the Season 23 premiere of Dancing With The Stars and fans can't wait to get started. There's a buzzworthy crop of contestants this fall with some big pros back to compete and folks are ready to start casting their votes. What DWTS spoilers are available for the premiere and how can viewers vote for their favorite pairs?
PureDWTS has all of the scoop on the voting and the first dances and it sounds like the Season 23 premiere will be a powerful one.
The performance order for the first show is not yet known, but it looks like the phone numbers have been assigned to the pairs alphabetically by the celebrity's first name once again. These phone numbers will stay with the celebrities throughout the fall, and all of them start out as 1-800-868 numbers.
What are the Season 23 Dancing With the Stars voting phone numbers?
Dancing With the Stars spoilers indicate that Amber Rose and Maksim Chmerkovskiy will start with a foxtrot to Alessia Cara's "Here," and fans need to call 1-800-868-3401 to vote for them.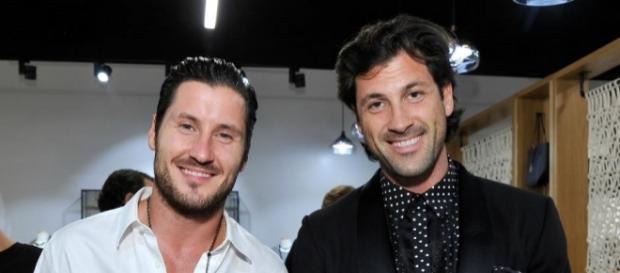 Calvin Johnson and Lindsay Arnold will do the cha cha to Flo Rida's "That's What I Like," and their phone number ends in 3402. Jake T. Austin and Jenna Johnson are using One Direction's "Kiss You" for a jive, and their number ends with 3403.
James Hinchcliffe and Sharna Burgess are generating a lot of buzz and Dancing With the Stars spoilers share that they'll do the foxtrot to Zayde Wolf's "Live Life." Fans anxious to keep this DWTS pair around will need to dial 1-800-868-3404.
As for Jana Kramer and Gleb Savchenko, they'll do the Viennese waltz to Ariana Grande's "Dangerous Woman." The voting number they will use follows the same format, and ends in 3405.
Babyface is hitting the dance floor with Allison Holker and they'll use Ray Charles' "I Do" for their foxtrot. To ensure that these two stay in the competition, fans need to call 1-800-868-3406. Laurie Hernandez and Val Chmerkovskiy are seen by many DWTS supporters as very strong contenders, and they start with a cha cha to Bonnie's "American Girl." To vote for these two, their fans need to ensure that they end their number in 3407.
Derek Hough surprised many by coming back again and he is dancing with Marilu Henner. The two are doing a jive to Becky G.'s "Can't Stop Dancing," and their phone number for Season 23 of Dancing With the Stars finishes with 3408.
The Week 1 Dancing With the Stars performances should get fans buzzing
Brady Bunch star Maureen McCormick is partnering with Artem Chigvinstev and they'll do the Viennese waltz to Mary J. Blige's "You Make Me Feel Like a Natural Woman." Votes for these two can be cast at the 3409 number, while politician Rick Perry and Emma Slater will have number 1-800-868-3410.
Those two are doing the cha cha to the Little Texas song "God Blessed Texas" during the Dancing With the Stars premiere, and everybody will see Ryan Lochte and Cheryl Burke dance to Michael Buble's "Call Me Irresponsible." Some might say that's an interesting choice considering all the buzz Ryan generated at the Rio Olympics, and it will be interesting to see how that goes over with viewers.
Terra Jole of Little Woman: LA is dancing with Sasha Farber, and they will tackle a jive to Betty Hutton's "Stuff Like That There." Viewers can support them by dialing the number ending in 3412, while Vanilla Ice and Witney Carson will use phone number 1-800-868-3413 as they kick off Season 23 of DWTS with a cha cha to the song that made him infamous, "Ice Ice Baby."
As the DWTS website details, phone voting will be open until 60 minutes after the show ends and people can also vote online.
Unfortunately, it seems that international DWTS fans are not going to be able to vote. Will Laurie and Val score the trophy this fall, or could Marilu and Derek snag the win? Many Dancing With the Stars fans are buzzing about James and Sharna along with Lindsay and Calvin, and the premiere should give everybody a sense of who will be sticking around throughout Season 23.
Click to read more
and watch the video