We all know that "American Horror Story" seasons are connected. Ryan Murphy confirmed that that was the case back in season 4, when we realized that season 2 character Pepper was back in season 4. There are only subtle connections and there isn't a big deal made about things.
Season 5 had numerous connections to the first season, with the use of Dr. Montgomery, the real estate agent, and Billie Dean Howard. After the reveal in season 4, we've looked back over the seasons to see the subtle clues, but so far "AHS" season 6 has had the most. We've already seen connections to both seasons 1 and 2 in the story telling.
Separate chapters offer separate connections
This year the connections have been episode by episode, instead of just thrown in at various stages.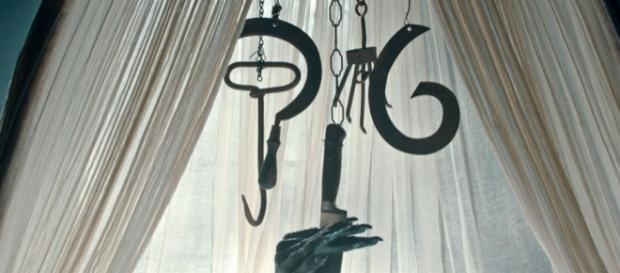 Episode 1 was a throwback to the very first episode of "American Horror Story." A young couple decide to get a fresh start and move to a new house with a dark past, without doing much research into the house. Sound familiar?
If that wasn't enough, the young couple throwing all their savings into the property so all their money was tied up into it should. This is given as the reason neither of the families can move out of the house when things start to get creepy.
The second episode has more of a season 2 feel with the medical focus. Two nurses go around killing their patients, as they try to spell out the word "Murder" with their victims' names. "American Horror Story: Asylum" focused on the medical side of things with the former Nazi Dr. Arden.
There's still the connections to the first season through the use of two nurses and the creepy jars in the cellar that remind us of those creepy jars in the basement of Murder House.
Connections coming in future episodes
We will likely find that there are more connections coming up. Episode 3 is likely to have some sort of connection to season 3, which was the coven storyline. Is it possible that the colonial ghosts are somehow connected to the coven or the coven know the story? Maybe the ghosts are trapped in hell, which was a major part of the season 3 storyline.
We have heard that we will find out more about the Mott family, which is likely to make an appearance in episode 4 with the way these connections are forming.
Danny Mott was the main antagonist in season 4, with his psychotic ways. Will the colonial ghosts somehow be connected to the Motts or are they somehow connected to the hillbillies?
Only time will tell. Episode 3 of "American Horror Story: Roanoke" airs tonight. This pattern would make sense since Murphy has confirmed there will be some sort of twist in episode 6--six episodes for six seasons.
Don't forget "American Horror Story: My Roanoke Nightmare" continues on Wednesdays at 10pm and is an FX Series.