Bollywood exes offer 'cold vibes' for chemistry when pulled together for new movies?
These Bollywood actors once had tremendous on-screen chemistry, but will a real-life split put a damper on that magic when paired again in a movie?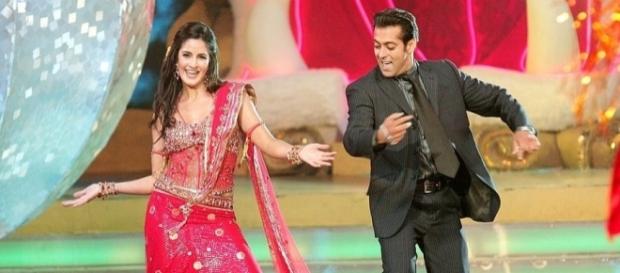 Bollywood stars and former real-life lovers salman khan and katrina kaif have been tagged to star in filmmaker Ali Abbas Zafar's new movie, but how will the real-life exes play out on the screen? Will bitterness and resentment get in the way of the chemistry needed to make this movie into a block-buster? 
It's mature acting!
Zafar and many of the other filmmakers in Bollywood aren't worried about pairing real-life ex-lovers to play opposite roles in their films. Despite rumors of 'cold vibes' for some co-stars, the filmmakers don't see a problem in this practice.
Zafar wanted to know, "How does that matter?" when he was asked about taking a chance by putting ex-lovers together.
He said that it is as simple as putting two professional actors in a movie and not worrying about the past they once shared together. Zafar looks for these Bollywood actors to follow a script and do it well, as it is all part of their work. Salman and Katrina will star in "Tiger Zina Hai" together. When deciding on who will star in his movies, Zafar sees no reason to comment on their past or present personal lives, reports the "Hindustan Times."  
'Cold vibes?'
Still, there were rumors of "cold vibes" between Katrina and another ex, Ranbir Kapoor, when doing a recent film together.
Ranbir was Katrina's boyfriend before Salman. These two had lived together and despite their rocky breakup were tapped to star in a Bollywood movie directed by Anurag Basu.
Basu was quick to pounce on the rumors that the chemistry between Katrina and Ranbir just wasn't there. Both have grown more professional and their past together didn't get in the way. When reports emerged that the two weren't sharing vanity vans together, it sounded as if the former couple were really at odds. Truth be told, the two never shared the vans together even at the height of their personal relationship.
Why chance bad chemistry? 
Bollywood doesn't sound much different than Hollywood when rumor mills are concerned. You might think that directors and producers would steer clear of pairing real-life ex-lovers in a movie together because there's a chance of animosity getting in the way of the chemistry needed to make the movie work. But there's a very good financial reason for pairing these ex-couples on the screen.
Stars like Katrina and Salman have made hit movies together and fans are excited to see them star in another movie as a couple.
It is part of the draw for the audience. So there's big money riding on these ex-couples keeping it professional on the screen. Some of the Bollywood stars who have been matched with ex-lovers on the screen are Katrina Kaif, Salman Khan, Ranbir Kapoor, Shraddha Kapoor and Aditya Roy Kapoor.                                                                                                                                                                                                                                                                                                                                                                                                                                                    
Click to read more
You will watch a video to read the news
or