'American Horror Story' and the most terrifying doll ever [Teaser Trailer]
Just two weeks away from the premiere of 'American Horror Story' season 6, FX is still teasing us with possible themes.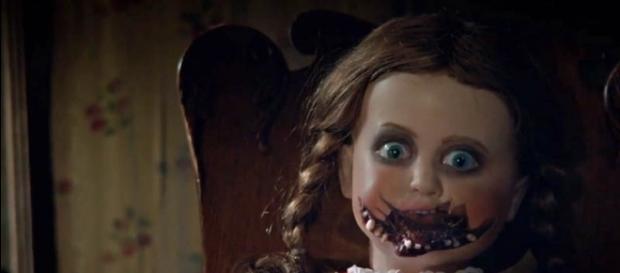 They really don't want us to know what is coming in season 6 of the popular horror show American Horror Story. FX has been feeding us horrifying teasers, all with the iconic "?6" clearly marked on the videos. According to Movie Pilot, there have been 20 of these teaser trailers, and only one of them reflects the true show. This is to let us mere fans know that maybe the horrific content in that teaser will be part of the new upcoming season, or maybe it won't, but they ain't saying.
Blasting News recently reported on a teaser title for the season that was posted on Rotten Tomatoes, with the scary (and rather Stephen King related?) handle "The Mist."
#AmericanHorrorStory's season 6 theme may have been accidentally revealed: https://t.co/1u6dUxLqcr pic.twitter.com/cl7J45lU8F

— Us Weekly (@usweekly) September 2, 2016
AHS Season 6 and the doll from Hell
On Thursday, September 1, FX released the latest teaser and it is definitely of the scary variety.
Move over Chuckie, there's a much scarier doll in town.  Have a look below if you dare at the teaser trailer, with the title "Baby Face."
While you sleep... #AHS6 pic.twitter.com/l2HSeChvO3

— AmericanHorrorStory (@AHSFX) September 1, 2016
In the latest clip, we see a quaint child's room, decorated with pretty wallpaper. On top of a toy rocking chair, we see what looks like a really cute doll, with a cherubic and pretty face. However, this is AHS we're talking about, so of course, things are not quite what they seem.
Zooming in on the doll, we find this is not a toy we would like to have anywhere near our children – or ourselves for that matter. That mouth! Looking horribly similar to the mouth of that murder clown from season four, American Horror Story: Freak Show, this doll is definitely not what she seems to be. In the background, a child's voice keeps reciting what sounds like "The dolly moved."
Looking back on the other horror teasers given to us mere fans by the producers of AHS, US Weekly says this latest terrifying possibility could be related to yet another scary teaser, which showed a baby with claws, sleeping under a mobile made up of scythes. Whatever the theme, it definitely looks like kids will be involved.
Which cast members are returning for season 6 of American Horror Story?
PERFECTION pic.twitter.com/NlZk3Z3cE2

— AmericanHorrorStory (@TheAhsPosts) September 2, 2016
They are also keeping the cast pretty much under wraps at present, but so far Lady Gaga, Sarah Paulson, Matt Bomer and Cuba Gooding Jr. appear to be confirmed, and Evan Peters keeps popping up on the AHS Twitter page.  But who knows, with all these terrifying teasers, we could all get totally paranoid before the season premiere of American Horror Story on FX at 10 p.m.
ET on September 14.
Click to read more
You will watch a video to read the news
or