Seth Rogen 'Sausage Party' wiener role linked to nude Orlando Bloom, Justin Bieber
Seth Rogen compares sizes, pokes fun at Orlando Bloom, Justin Bieber for throwing their own public sausage parties with privates bared.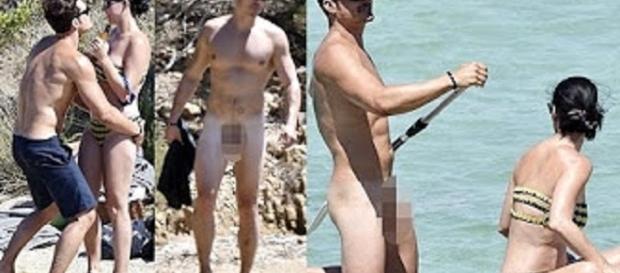 Seth Rogen talked about his role of an anthropomorphic wiener in the new movie "Sausage Party" in an interview with Andy Cohen. And naturally links were made to some particularly meaty pics of nude Orlando Bloom and bare-naked Justin Bieber. Rogen discussed size comparisons and kindly gave kudos to Bloom and Bieber who both bared meatballs and frankfurters in public recently. Penis references were the logical segue as that's exactly the kind of humor in the R-rated "Sausage Party"-- middle-school and metaphoric.
Bare bottom Bloom, Biebs butt of jokes
Allusions to food and people's body parts abound in "Sausage Party" which is a collaborative of the early 2000s SNL gang -- Seth Rogen, Jonah Hill, Michael Cera, Kristin Wiig, Bill Hader. The film does a kind of parody on Hans Christian Anderson's "Little Fir Tree" in which the food items long to be taken home and loved but don't realize that this will mean being eaten. So when Orlando Bloom went commando in Sardinia and the Biebs shared his privates with the public, the "Sausage Party" parallels begged to be made. It was just like when Anthony Wiener sexted pics of his penis -- you couldn't not make the Wiener's wiener connections.
"Sausage Party" R-rated humor hits below the belt
Maybe you think people should grow up and rise above this puerile humor? Maybe you're right. Maybe you find discussion of male genitalia disgusting and perverted. Google agrees with you and actually punishes bloggers for using words like "testicles" and "penis" even on health blogs. But few would argue that the Internet is a sanitary place where innocent children can frolic free from sex references. Filters on or off, anything and everything goes online.
Using the words for body parts is the least of anyone's worries. Further, celebs like Orlando Bloom and Justin Bieber ask to be the butt of jokes. Why else bare their bums? They'd be offended if no one noticed! And who doesn't need a little lift from depressing news like the 5-family-member murder suicide in Sinking Spring? As per which penis Rogen prefers -- Biebs or Bloom -- he likes them both for their individual merit. Speaking of hot, Seth Rogen is lookin' good himself. "Sausage Party" should have a Slim Jim character because the once chubby Rogen has morphed into one trim and skinny dude!