Review of the film 'Rustom', a real life tale of love and revenge on the screen
The film relates the tale of a naval commander who discovers his wife is in a relationship with his friend in his absence and kills him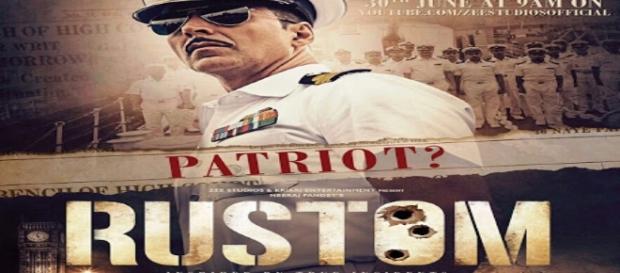 "Rustom" is the latest film from Mumbai starring Akshay Kumar. The film relates the story of a Parsi naval commander of the Indian Navy who kills his wife's paramour. The film though having a disclaimer that any resemblance to real life events is coincidental is really based on a real life incident.
Real life incident
 The incident took place way back in 1959 and led to a great upheaval. A Commander Kawas Nanavati, a Parsi who was an officer in the navy was happily married to an English lady named Sylvia.
On his many overseas trips, the Commander's wife fell in love with a friend of Nanavati named P Ahuja, who was a Bombay-based businessman. They developed a regular relationship. On returning earlier from a sea voyage, he was confronted with his wife's infidelity. Incensed he drew his revolver from the ships armory and went to the residence of Ahuja and shot him dead. It was a pure and simple case of love, desire, and revenge.
It led to a sensational trial and in those days the trials in Bombay were conducted by a jury.
 The commander defended himself skillfully, and the jury acquitted him of any wrongdoing in the Crime. The judge was incensed, and he declared the verdict of the jury as "perverse" and the Bombay High Court reviewed the case. The commander was convicted of culpable homicide and sentenced to life in prison.  However, after a short time due to intense media pressure and public perception that Nanavati did nothing wrong, the President pardoned Commander Nanavati, who then migrated to the USA.
The film
Based on this real life episode the Akshay Kumar film captivates the public.
The film loosely follows the same plot with a slight twist where in the name of Kawas Nanavati is changed to Rustom Pavri and a twist of a corruption scandal in purchasing an aircraft carrier from the UK is added as a background. The film really showcases the histrionic abilities of Akshay Kumar, and it's to his credit that he matches the 3 Khan's.
The film is directed by Tinu Desai and also stars Ilena D'cruz who plays the wife of the commander. There is a standout performance by  Arjun Bajwa, who apart from displaying a muscular chest executes his role as the lover with finesse. 
Last word
The movie has slick direction and editing though the music has not much role in this film, the background score is somber and fits the theme.
The Navy atmosphere is created skillfully and the old warship INS Mysore is brought alive. All in all, the film Rustom is raking in money at the box office and all credit to Akshay who lives and breathes the life of a Navy officer. As an aside, one can mark this case as a landmark case as it sounded the death knell of trials by jury, which  were discontinued on orders of the supreme court