Naked Orlando Bloom blossoms sans bloomers, bares all, breast pumps Katy Perry on vacay
Orlando Bloom's knickers pirated away as 'Pirates of the Caribbean' star parades nude, gets a lot of exposure on paddle board promenade.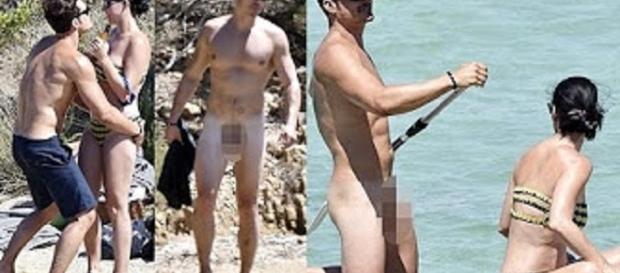 A naked Orlando Bloom really blossomed after he lost his bloomers on vacation in Sardinia. Someone must have pirated the "Pirates of the Caribbean" star's knickers as Bloom was spotted nude, baring penis and privates on a paddle board excursion with girlfriend Katy Perry. The couple got even more exposure as the amorous Orlando was seen breast pumping Perry the next day. 
Moon over Orlando
Paparazzi had a field day in Sardinia, Italy as Katy Perry and a nude Orlando Bloom were spotted not once but often.
Bloom sported no pants as he stood atop the paddle board. So that's what was under his elfin robe on "Lord of the Rings"! Bloom didn't just ditch the drawers once he was on the paddle board. Other photos show him confidently swaggering along the shore with the jewels on display. It should be noted that this was not a nude beach, per se. But when Orlando Bloom chooses to go commando, nobody seems to complain. 
Bloom puts the moves on Katy Perry
Katy was bikini-clad in all the Sardinia photos but she did allow Orlando to get a good grip on the girls.
He is shown with her breasts in a sort of human mammogram. There's another of them seriously making out! This wouldn't be weird if the they were just caught on camera in their own private little lover's knot. But the two got in on right in front of Perry's brother and pregnant sister-in-law who were sitting next to them. Orlando seemed to be completely oblivious to the fact that there were people all around. The "Pirates of the Caribbean" actor appeared much more comfortable with the PDA than Perry who seemed a little shy about getting to third base -- or a home run if Orlando had his way.
In one picture, Perry seems to be pulling away from Bloom's unblushing advances. Not everyone is comfortable with public displays of affection. It doesn't mean that they aren't very loving and affectionate. For example, when Josh Groban and girlfriend Kat Dennings broke up, they were very quiet about it. Some people just prefer their private lives not become public. Then there's Lindsay Lohan who makes everything public!