Naked Donald Trump pops up in US cities; not for kids, watch video how nude Trump was made
Donald Trump is dominating the news today not with his words but with his utterly tiny and missing man parts - take a look for yourself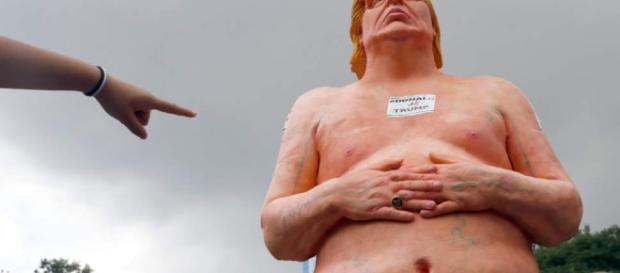 Nude Donald Trump statues appeared on Thursday morning in New York, San Francisco, Los Angeles, Cleveland and Seattle. While some media outlets have decided to blur out Trump's naked or missing private parts, the whole message of the project is actually focusing on the man and what he says. While Trump's nude statue on Union Square has already been removed, not even New York City Park officials could refrain from making the joke that "an unpermitted erection in parks, no matter how small" could not be allowed.
Who is behind the naked Trump statues?
The inspiration for the nude Donald Trump statues comes from Hans Christian Anderson's fairy tale The Emperor's New Clothes. After following the Republican presidential candidate's public appearances for the past months, members of the anarchist collective INDECLINE reportedly began to imagine what Trump would look like without his suit, his tie, his shined shoes, and his perfectly arranged hair. In reaction to Trump's public appearances and emperor-like words, INDECLINE changed the fairy tale's title to "The Emperor Has No Balls."
As Inverse reports, the idea for the naked Donald Trump statues and the man behind INDECLINE is actually a man named Ryan McPherson.
In the past, McPherson has reportedly created other controversial projects that even landed him in a California prison. With already so much Trump humiliation circulating across social media websites, it is doubtful that McPherson planned on adding anything new to the Trump discussion. Most likely, one can assume that the guerilla activist could just not hold back on his creative and provocative Trump idea.
The creation of the nude Donald Trump statues
Donald Trump in the nude and without balls was quite obviously not created by McPherson alone but a team of artists as can be seen in the video below.
McPherson and the members of the group of guerilla street artists named their project "The Emperor Has No Balls" and signed all naked Trump statues with the pseudonym "Ginger."
Watching the video of how the 80-pound naked Donald Trump statues were made is interesting on two levels. Most importantly, of course, is the artistic aspect of how the guerilla artists produced and refined the figures. In addition, however, the video is interesting to watch because of what Trump statements the group included. Apparently, Trump's words have reached quite an unusual audience.
Reactions to the naked Trump statues
The numerous photos taken by people with the naked Donald Trump statues in New York, San Francisco, Los Angeles, Cleveland and Seattle show smiling faces. The photos have made it across major news headlines and social media websites. None of the selfies show children alongside the nude Trump presidential candidate and after watching the above video, it is quite understandable why.
Some visitors commented that they hoped that the naked Donald Trump statues would stay up because they were symbolic in a literal and figurative way.
While even Trump supporters could not refrain from taking a selfie with their favorite naked presidential candidate, they did raise one important question. "So when [are] we getting a Hillary version?"