Dragon Ball Super: Zeno - Sama will come to rescue Goku
Zeno - Sama could save Goku from the possible death at the hands of Black Goku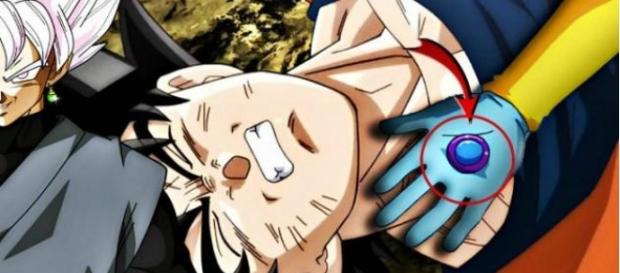 The chapter 55 of Dragon Ball Super was an episode full of revelations and has left us several theories to analyze here until the next episode in which we see the great battle between Goku and Vegeta against the antagonist of the series, Black.
The King of the universes
In the last episode, we revealed the reason why Zeno the King of the universes had quoted Goku in his kingdom. He just wanted to be a friend of the charismatic warrior Saiyan and after that gave him a small object which is a button.
When Goku presses it, Zeno will be before his eyes in an instant.
This strange object given to Goku, should not go unnoticed, as this object could save the life of this Saiyan in the future. As we know, we have seen the great transformation of Black Goku during the progress of the episode and we have seen Goku and Vegeta  use their more powerful transformation to rival this intimidating villain.
The theory
The theory speculates that after an imminent defeat at the hands of this dark warrior, Goku could push the Button delivered by Zeno to rescue him.
It should be noted that if this happened, it would be a completely crazy event because not only would he be risking the life of Zeno, it would also be sending him to the future. As we know, traveling through time is penalized by the Zeno, implying that certainly, he would be very angry if this action was taken by Goku.
Conclusion
While we certainly can argue that Zeno could save Goku's life, as he is his friend and a person which he appreciates much, we must emphasize that this is only a hypothesis, based on chapter 55, of which we have made a deep analysis and extracted the most important details for all of you.
We remind you that episode 55 also revealed the identity of a new extremely powerful character, which we will be talking about in our next analysis. For now, we just know that his name is Daishinkan and that he is one of the biggest Kings of the 12 universes.
Note
Below, there is a video verifying all the information on this new and exciting character: