Dragon Ball Super Heroes: Goku Vs. Black. Finally Happened.
The scariest battle will take place in the future of Trunks. Will Goku win?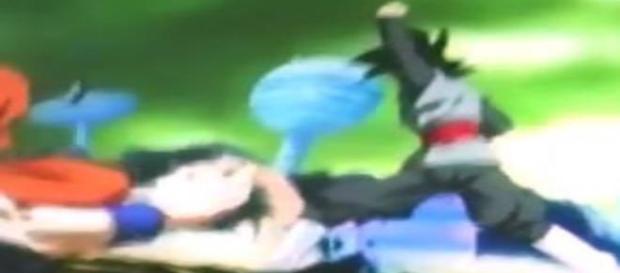 Surprising! A few minutes ago Sorara - TV, a Japanese television station of high prestige in the world of the anime, has just unveiled a new trailer for the new series of Dragon Ball Super Heroes, whose plot has shown all the events of the original animated series. It has included the saga of "Trunks of the Future" that was announced months ago. However, one of the most characteristic details of this new video is the presentation of a battle that will occur in the future, in which, will be involved the Z Warriors.
Definitely, there is no doubt that this new revelation will be a tremendous surprise for all fans of this popular and wonderful series, which have been unquiet by the rumors and the leaked information showed on the last recent days in chapter 53 of this dramatic series.
The trailer
Indeed, in the trailer, we can see the intense battle between Son Goku and Black, which will stage in "Future of Trunks," amid the destroyed cities. The Sayain appears with the first hit, but Black smiles and hits the triple against his opponent. The amazing thing about this video is that Zamasu also makes an appearance as a spectator of the battle, which would mean that he is not Black, making us understand that it is a creation of its resemblance.
What next
Curiously, Zamasu now has the green clay in his left ear. It should be noted that previously he only had the orange colors because the others on the green colors were worn on by Gowazu, the supreme ancestor. This new development could determine the future death of its creation at the hands of his disciple, who would end up snatching all his belongings, among them, the clay and the rings of the time.
The rest of the video includes own scenes of its video game as expected. However, the plot shown has been a great help to determine the truth about the origin of the current villain from the animated series, who also confirmed that his hair would be pink color and that it would be possible thanks to a divine transformation.
Below is the video to improve this new information, so that you can clear your doubts generated around these new characters, and what might happen for the next days. Enjoy it.
Click to read more
and watch the video
or