'Young and the Restless' spoilers: Tristan Rogers back, more Colin and Jill scenes coming?
Tristan Rogers took to Twitter to reveal that he was back on the 'Y&R' set to tape – fans have been waiting for his return for six months.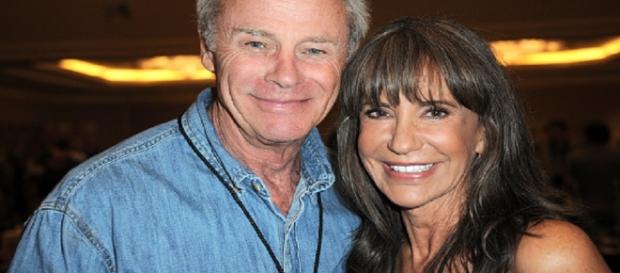 The Young and the Restless spoilers tease big drama is ahead for Jill (Jess Walton) and Colin Atkinson (Tristan Rogers) in the coming months. Tristan Rogers announced to his Twitter followers that he is back on the set, taping scenes with Jill, and has "meaty" material coming in the coming weeks. 
For months, the Y&R fans have wondered where Colin and Jill have been. A few weeks ago, we learned that they had been busy in Hong Kong dealing with business.
Jill's presence is needed, especially to straight Billy's (Jason Thompson) out, after having a complicated affair with his brother, Jack's (Peter Bergman) wife. 
Tristan Rogers returned to ABC for a short stint
Soap Opera Digest teased that Tristan had been busy working with General Hospital at the beginning of the year.
It was a highly anticipated return that eventually fell flat after the GH writers didn't know what to do with his character. What would be a great return, turned into a sore spot for many fans. Robert Scorpio disappeared, and the fans were never given much of an explanation. 
After Rogers had disappeared from General Hospital, Tristan promised that he would eventually return to the Young and the Restless. It looks like it took the writers a few months to work him into a storyline. He should return by mid-August just in time for the end of summer sweeps.  
The spoilers have teased for quite some time that Jill would return to make sure her son, Billy doesn't self-destruct. Apparently, she will return because she's heard he's mismanaged Brass & Sassy, and she wants to take over the company to protect Chancellor Industries' investment.
Jill finds that Billy was more concerned about sleeping with his brother's wife, Phyllis (Gina Tognoni) than running the company.
Jill returns to give Billy a piece of her mind
Jill is said to be angry with Billy about Brass & Sassy, and she hasn't discovered that he stopped trying to reconcile with Victoria (Amelia Heinle). The Young and the Restless fans, are you excited about Colin's return to Genoa City in the coming months?
Click to read more
and watch the video
or