'The Vampire Diaries' season 8: all you need to know about the final season
It's time to go back to the very start for 'The Vampire Diaries' season 8.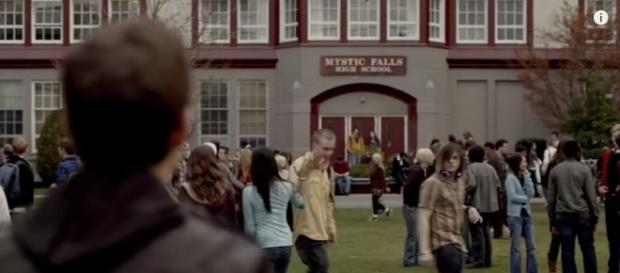 Fans are not happy. At San Diego Comic Con 2016, the CW confirmed that The Vampire Diaries season 8 would be the last. What does that mean for you, and what's coming this season?
Links back to the very first season of The Vampire Diaries
Those who miss The Vampire Diaries season 1 don't need to be disappointed. The show will pay homage to the first years, and that may include flashbacks involving Nina Dobrev. One good thing about Dobrev leaving on a good notes is that the show is able to use her image still.
This wasn't allowed in Charmed when Shannen Doherty was fired, and fans certainly didn't like the final season having nothing of her.
Julie Plec has confirmed there are mentions every day about how the show can link back to the early days.
One idea is to have a new Miss Mystic Falls pageant, which Elena and Caroline both fought for, and introduced Stefan's bloodlust problems for the first time.
A shorter season of The Vampire Diaries
There is some bad news for fans. Season 8 will be much shorter than its previous years. There will only be 16 seasons to the show, but nobody has really explained why. Is it possible that the CW just doesn't have enough faith in it to continue with a full length? Does it want to quickly wrap up The Vampire Diaries, so it can start its new season of The Originals?
That being said, the season will focus on Enzo and Damon being taken over by this new evil entity. They have lost free will, and that will find them at odds with their own wishes and wants. It does allow the actors to have some fun with the characters.
Michael Malarkey, who plays Enzo, has said that his character and Bonnie are on a break right now because of the situation.That isn't expected to last, and he hopes that the two will have a happy ending.
There won't be any The Vampire Diaries-The Originals crossovers
Due to the shorter season and the timelines not matching, there aren't any plans for crossovers. Sorry, Klaroline fans, but Klaus is not going to show up to whisk Caroline away.
That being said, it doesn't mean there aren't plans for anything in The Originals. With The Vampire Diaries coming to an end, there is the possibility of some of the characters showing up in the new timeline there. The Originals season 4 will be set five years into the future, rather than the parent show's three years.
The Vampire Diaries season 8 will premiere on Friday, October 21, 2016. It will be the final season, so get your tissues ready.
Click to read more
and watch the video
or